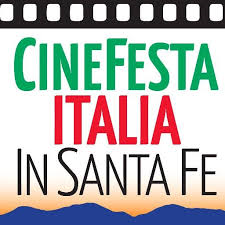 This is a wonderful opportunity for lovers of the fine tradition of Italian Cinema to feast on the award winning Italian movies and documentaries of the past year.
Santa Fe, NM (PRWEB) May 27, 2016
Never before has one of the world's most treasured countries and cultures brought its best cinema, art and food to one of the most desired travel destinations in America, but there is always a first time. That first time is CineFesta Italia in Santa Fe, New Mexico and it starts June 1st.
Although tickets can be purchased for individual films and dinners, Italian culture lovers will want to take advantage of the entire Festival (Tutta Festa) and the special lodging rates offered to CineFesta patrons from the historic and award-winning Hotel Santa Fe, The Hacienda & Spa, in downtown Santa Fe. With seven carefully curated feature films and five documentaries, daily parties, receptions, dinners and/or gala events, an art exhibit at CineFesta Italia Headquarters and opportunities to win trips to the "real" Italy filling up their days and nights, they might plan on staying an extra few days to enjoy the world renowned art and cuisine of Santa Fe.
Chefs from Spinnato dal 1860, an artisan confectionery in Palermo, Sicily, will be preparing appetizers and desserts for all food events. Entertainer and Los Angeles based radio show host of "The Life Changes Show", Filippo Voltaggio, will be serving as the Master of Ceremonies of the evening events, and filmmaker, Luca Ceccarelli, the Creative Director and curator of CineFesta will be introducing all the festival films.
Says Luca, "What I wanted to showcase at our first annual festival is the evolving role of women, not only in society but in the industry itself. This is underscored by titles such as 'Per Amor Vostro,' 'Le Meraviglie' (The Wonders) and 'Vergine Giurata' (Sworn Virgin), as well as emerging voices in the shorts selection. All of the features and documentaries are outstanding, and the filmmakers carry on the cinematic innovations and achievements of the Italian artists who proceeded them."
"Patrons of CineFesta will not only get to enjoy the best of Italian film-making, but also have the opportunity to share the love of film and Italian cinema with like-minded aficionados," adds Lisa Contarino, Executive Director of CineFesta Italia. "They will also meet chefs, artists, emissaries and dignitaries from Italy, including Massimiliano Gori, Deputy Consul General of Italy in Los Angeles, who will attend the Friday celebrations and the Gala di Chiusura. It is a celebration of all that Italy does best: La dolce vita! The other wonderful aspect of the festival is that proceeds benefit local charities. This year's beneficiaries are 'Cooking with Kids' and 'Communities in Schools in New Mexico at Santa Fe.'"
The CineFesta Headquarters/Gallery, located at 204 N Guadalupe Street, will be open before the Festival and most afternoons during the Festival. There people can not only peruse the art of Giorgio Ceccarelli, Paula Papponi and Cristian Pontiggia, but view the many Raffle prizes, purchase tickets, and enjoy Italian refreshments. The Artists' Reception on Friday, June 3rd from 5 - 7 pm, will give festival attendees the opportunity to meet and speak with the exhibiting artists.
ABOUT
CineFesta Italia is an annual event of films, artisanship, food and culture to benefit local charities. 2016 Santa Fe beneficiaries are "Cooking with Kids" and "Communities in Schools in New Mexico at Santa Fe."
The events are a collaboration between Italian government agencies, non-profits and businesses to bring a unique presentation of culture, tourism and food to the public while helping these great charities. CineFesta Italia is organized under the auspices of the Italian Consular offices of New Mexico, Lino Pertusini, Honorary Consul of Italy in New Mexico, and Rosalba Maniaci, Italian Consular Agent for New Mexico, and in concert with the Italian Culture Center of New Mexico, l'Osteria d'Assisi, the Italian Cultural Society of Taos, the Italian Cultural Institute of Los Angeles and Partners in Privatization Inc., our 501(c)3 Fiscal Sponsor.