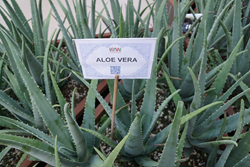 Aloe's 75 active vitamins, enzymes, amino acids, and many more constituents help protect the skin.
(PRWEB) May 27, 2016
As summer makes its way into the states, it brings with it longer exposure to ultraviolet rays. This can lead to sunburns and even skin cancer. The team at AloeVera.com believes it's more important than ever for people to protect their skin from the sun's harmful rays. As a way to stay healthier in 2016, Aloevera.com and its associates have come together to bring the public a set of new articles. These informational pieces illustrate the various health benefits of using the aloe vera plant, especially as a gel to protect a person's skin from the summer heat.
Ben Danson, spokesman for AloeVera.com, gave a statement for this recent release of articles. "Aloe is primarily known for its use in skin-care products and there's a good reason for it. Its unique combination of vitamins makes it a vital source of protection for skin, hair, and even provide people with a natural energy boost with vitamin B12."
AloeVera.com believes the prolonged exposure to the sun, especially during the summer, can lead to a rise in skin and health problems. People need to take protective measures during the summer months. Aloevera.com wanted to take a proactive approach to the problem and offer people insight into how aloe's 75 active vitamins, enzymes, amino acids, and many more constituents help protect the skin.
Among the topics listed in AloeVera.com's latest release, the team launches articles for aloe vera gel as a treatment for sunburn and general skin protection for the upcoming summer rays.
AloeVera.com also believes a person's hair takes the brunt of the damage with overexposure to ultraviolet rays. The informational site offers aloe vera oil for a calming way to soothe scalp burn and protect a person's hair at the same time.
Danson's team hopes that these natural solutions will help people stay safe this summer at lower costs that chemically engineered products offered in stores. Danson also stated, "Everyone loves summer and there's no reason not to enjoy it. We had this idea in mind when writing these articles and hope people will get some use out of them this year."
While many other companies and websites seem to be embracing the natural power of the aloe vera plant, Danson and his team have made it a point to make ensure people have extra ways to protect their skin and hair this summer as the temperatures continue to rise.