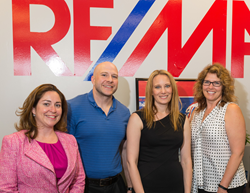 CHICAGO (PRWEB) May 26, 2016
RE/MAX Hometown Properties, located at 25445 Pheasant Lane, in Channahon, Ill., opened it doors for the first time on May 5 with a grand opening celebration. Channahon Mayor Missey Schumacher along with other local leaders joined Joe and Julie McElyea, owners of the new RE/MAX franchise, to mark the occasion with a ribbon cutting.
The 1,200-square-foot office, near the intersection of U.S. Hwy. 6 and Ridge Road, is positioned to conveniently serve both Channahon and the neighboring community of Minooka. The office has been designed to create a casual café-style work environment that features couches and a fireplace.
"We want this to be a comfortable place where our brokers and our clients will enjoy spending time," said Julie McElyea, managing broker of RE/MAX Hometown Properties.
The McElyeas moved to Channahon three years ago and recently celebrated the birth of their fourth child, a baby boy named Walker.
"Our goal is not only to sell real estate but to make a real contribution to this community," said Joe McElyea. "It took us longer than we thought to get everything ready in our office space, but the results are great so far. Now, were ready to start recruiting the right group of brokers to join us. Our timing has been excellent because the local real estate market is exceptionally strong this spring."
Julie McElyea explained that while there is excellent demand for homes in the Channahon-Minooka market at this time, the supply of homes is fairly limited. As a result, home values are on the rise.
"We're working to expand the supply of homes available, both existing homes and new construction to meet that growing demand, she said.
During the first four months of 2016 home sales in the Channahon/Minooka market totaled 117 units, 46 percent more than the same period last year, and the median sales price rose 10 percent to $187,000.
RE/MAX agents consistently rank among the most productive in the industry. In 2015, RE/MAX Northern Illinois agents averaged 18 transaction sides. RE/MAX has been the leader in the northern Illinois real estate market since 1989 and is continually growing. The RE/MAX Northern Illinois network, with headquarters in Elgin, Ill., consists of more than 2,250 sales associates and 106 independently owned and operated RE/MAX offices that provide a full range of residential and commercial brokerage services. Its mobile real estate app, available for download at http://www.illinoisproperty.com, provides comprehensive information about residential and commercial property for sale in the region. The northern Illinois network is part of RE/MAX, a global real estate organization with 104,000+ sales associates in 90+ nations.
####
EDITOR'S NOTE: RE/MAX® is a registered trademark. Please spell in all caps. Thank you. This release is posted at blog.illinoisproperty.com.