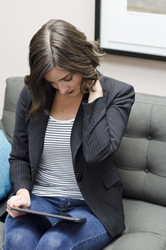 We're in unchartered waters here," explains Dr. Perry. "The long term impact of this relatively new and unexamined behavior can't be known."
Las Vegas, NV (PRWEB) May 26, 2016
Dr. LeRoy Perry's recently authored whitepaper, "Tech Neck and ROI (return on investment) of Ergonomic Tools," identifies the impact of mobile devices on the billions of users, hundreds of millions of whom are coming into the workplace with pain in their upper backs and necks. While not life threatening, the frequent and common action of looking down at hand-held technology devices (tablets, smartphones) for extended periods of time adds unnecessary stress to the upper back and neck. While some have called this "text neck" in the past, Dr. Perry calls this "TechNeck", as the behavior encompasses more than just "texting"; it includes reading and responding to e-mails and other extensive online media consumption on many formats of mobile devices. Dr. Perry points to research by Kleiner Perkins' Mary Meeker that shows 51% of online connectivity is gained through mobile devices. Dr. Perry asserts that the prolific use of mobile devices has a dark side: while his chiropractic business is booming, American workers' come to work with TechNeck pain, negatively impacting American business' bottom line.
Andrew Wood, Chief Ergonomist at Ferguson Risk Management explains, "Prolonged forward head on neck posture to view and operate hand held devices stresses neck and shoulder muscles, compressing the spine. This leads to many chronic issues which can be prevented with proper positioning and posture. Mobile hand-held devices don't have to be hand-held to be useful. In fact, the more they can be out of your hand, easy to touch and up at eye level, the better."
"We're in unchartered waters here." explains Dr. Perry. "The long term impact of this relatively new and unexamined behavior can't be known. What we do know is millions of users have upper back and neck pain and are seeking relief wherever they can find it." Dr. Perry calls for extensive research and the education of mobile device users; the simple act of raising the device to an appropriate line of site, whether in your hands or in an intervention tool, can mitigate some of the impact of this behavior.
"We have developed whole new behaviors around mobile devices – most of them are not good for our bodies." says Tom Keenan, Founder and CEO of Mükava. "When mobile devices are used to supplement workflow in a static setting, there are prevention tools like Mükava products that can support the user in a wellness-promoting manner."
To access a copy of the white paper or have a "NoTechNeck" reminder sticker sent out, please go to http://www.NoTechNeck.info.
For more information about Mükava's solution for TechNeck, please go to: http://www.mukava-tables.com/products
About Dr. LeRoy Perry, Jr. Dr. Perry's notoriety soared in 1988 when he became the first chiropractor to ever serve as an official Olympic team doctor. Together with Wilt Chamberlain, he established the Foundation for Athletic Research and Education to teach athletes how to enhance performance through proper diet, exercise and biomechanics. While retired, he donates his time as Chairman of the Sports Science and Medical Advisory Board for America's Schools Program, a national recycling initiative that raises money for K-12 education. Dr Perry is a frequent speaker on matters of public health in America and has recently been nominated for the Presidential Medal of Freedom. He can be reached at http://www.drleroyperry.com.
About Mükava: Mükava is an American company that designs and manufactures platforms that create a "third space" for mobile devices when used in the workplace. Great ergonomic design, ease of use and product functionality is at the heart of each product offering, ensuring end-users minimize their exposure to the painful effects of "TechNeck".