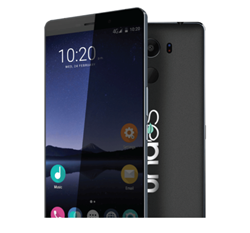 With a simple motto in mind that says "privacy is not a luxury for a chosen few and is everyone's right", Una Inc. paired up with Tutanota to bring affordable safety and security to all users.
Los Angeles, CA (PRWEB) May 25, 2016
With over $25,000 raised via their crowdfunding campaign on Indiegogo and receiving corporate orders for more than 5,000 devices, the UnaPhone Zenith champions in bringing the high level of security and privacy typically reserved for government and corporate entities, to all consumers worldwide.
Currently, to achieve this high level of security and privacy, a user is obliged to pay high costs outside of the typical consumer budget. With a simple motto in mind that says "privacy is not a luxury for a chosen few and is everyone's right", Una Inc. has partnered with Tutanota to bring affordable safety and security to all users. Not only for phone calls, and texts, but also for email connections.
UnaPhone Zenith is designed to prevent all the possible ways to misuse any application and service that takes advantage of collecting data from users. Most of the times, users feel very happy to receive a free service or app, but they are not aware of the high cost in what is given in return.
The Zenith sports the UnaOS, a deeply modified Android 6.0 version, where all the needed services and apps were replaced by "cleaned and secured" variants, leaving no space for privacy invasions or leaks, while complying with the highest standard of security and privacy the company aims for. Users will have all the functionalities they need, but without the security leaks and the invasion of privacy that they had been obliged to live with until now.
The device also hides its own identity, by scrambling all the addresses, serial numbers and versions, to guarantee positive identification by service providers impossible.
The storage is encrypted by default, making data recovery impossible, and the bootloader is locked in order to prevent bypassing the encryption. Customized, secure boot, verifies the operating system and the installed software before the loading, and an integrity check process which is triggered on boot, verifies any bootloader violations and if any is detected, the device will not boot anymore.
Any attempt to tamper with the device will make it unusable, the phone will become essentially a useless brick. The UnaPhone Zenith also features a "Secure Wipe" function in place. If the user enables it, and if someone tries to unlock the device unsuccessfully more than 5 times, the device automatically wipes all the data and returns to the default (empty) state, making any and all data unavailable.
In addition, the company is offering customization options for companies who wish to take advantage of the incredible security and privacy the UnaPhone Zenith can offer.
Tutanota, provider of one of the world's best secured email services, strongly supports the UnaOS developers and is one of the main partners of the company helping ushering a new era of security and privacy for consumers. The Zenith is now live and available to support on Indiegogo: https://igg.me/at/unaphone
About UnaOS
Una is a new concept that takes security and privacy to a new level. UnaOS is a team of Android developers that came together to provide genuine security and privacy solutions for mobile activity. Invasion of privacy, data mining and exploitation of users habits and behaviors have become a part of our everyday life and that's the price to pay for being overly exposed to the companies and organizations behind the apps and devices people use. The right to privacy is a fundamental human right, and all users should have the ability to secure their data and choose they interact with and who they allow to use their personal information, provided that they want to allow it at all.
For more information on UnaOS please visit https://unaos.com
For corporate inquiries and orders, please contact the Una Team at https://unaos.com/contact.html
About Tutanota
Tutanota is a market leader and the world's most innovative security company. Tutanota was the first web based end-to-end encryption system. It pioneered easy-to-use and secure email encryption for Android, iOS and Microsoft Outlook. Now Tutanota is being developed into the fully encrypted communication platform of the future. The open source project Tutanota aims at making the web open, secure and accessible for everyone.
For more information on Tutanota, please visit https://tutanota.com.
###