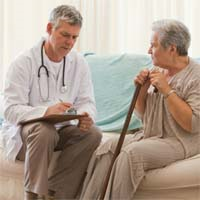 The heterogeneity of the three distinctive second line chemotherapy groups has a negative impact...
(PRWEB) May 25, 2016
Scientists at the University of Athens say they have evidence that the variety of different second line options being tried for mesothelioma may be hampering the research that could lead to one good one. Surviving Mesothelioma has just posted an article on the new research. Click here to read it now.
The team evaluated 98 mesothelioma patients who got a second kind of drug therapy after first line treatment with standard pemetrexed (Alimta) based chemotherapy failed.
"The heterogeneity of the three distinctive second line chemotherapy groups has a negative impact on the reproducibility and interpretation of the result," writes researcher Dimitris Vassos in the Journal of Thoracic Oncology.
The most successful of the three second line treatments appeared to be pemetrexed which yielded an overall mesothelioma survival rate of 29 months. Unfortunately, the test group was very small - only 8 patients.
"Deciding on a direction after first line mesothelioma therapy fails can be confusing since there is no accepted second line option," says Surviving Mesothelioma's Managing Editor, Alex Strauss. "This study offers some valuable insight into a problem that so many mesothelioma patients will face."
To read the details of the new study, including the results of the three different second line mesothelioma treatments evaluated, see In Search of a Second Line Option for Mesothelioma, now available on the Surviving Mesothelioma website.
Vassos, D, et al, "2nd line chemotherapy in malignant mesothelioma: A center's experience", Journal of Thoracic Oncology, April 2016, S148-149, http://www.jto.org/article/S1556-0864(16)30319-7/fulltext
For nearly ten years, Surviving Mesothelioma has brought readers the most important and ground-breaking news on the causes, diagnosis and treatment of mesothelioma. All Surviving Mesothelioma news is gathered and reported directly from the peer-reviewed medical literature. Written for patients and their loved ones, Surviving Mesothelioma news helps families make more informed decisions.