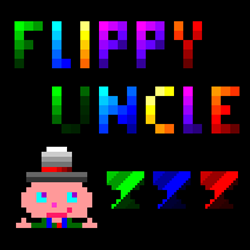 "If you score well on the red cup, you're a gaming god!" - Samuel Ruggieri @VoyagerGames
Vancouver, British Columbia (PRWEB) May 28, 2016
Building on the success of past mobile hits like Flappy Bird and Crossy Road from other previously unknown developers, Anachronic Games is celebrating the official launch of Flippy Uncle on the Apple App Store and Google Play with a challenge to Twitch and YouTube video game streamers. Can you get the highest score on the insanely difficult red cup level?
According to Samuel Ruggieri, Flippy Uncle fan and lead developer at partner studio Voyager Games, "If you score well on the red cup, you're a gaming god!"
Flippy Uncle is a unique mobile arcade game loaded with personality, with bright cheerful graphics, an original soundtrack, and original gameplay unlike any other game on the market. This mobile gaming hit is rapidly gaining downloads and five star reviews on Google Play and the Apple App Store. Players love the simple and intuitive tap controls and innovative gameplay, as their cute pixel art character filps across the screen and bounces off walls and colorful obstacles. They also love that the ability to compete with friends for online high scores on Game Center and Google Play Games leaderboards.
There is no other game like Flippy Uncle, contributing to its growing popularity among mobile gamers that are tired of clones and craving a new unique experience. It is clear that this game is a labor of love for the Canadian indie developer, who has created a vibrant audio-visual style completely different from anything else in mobile gaming. Flippy Uncle's unique personality helps attract gamers who are tired of mobile game clones that all look, feel, and play the same. It offers a cure for boredom and disenchantment among players who have become disillusioned with the current state of the mobile gaming industry, dominated by micro-transactions and analytic approaches to game design and development lacking heart and soul.
When asked about the future of Flippy Uncle, the sole proprietor and lead developer at Anachronic Games says: "We will be updating the game with new content as the player base continues to grow. The game will remain free-to-play and free-to-win, as a thank you to fans who have helped make this indie game a success."
Get Flippy Uncle on iTunes and Google Play.
Anachronic Designs is a Canadian independent developer of mobile games and entertainment apps. Founded in January 2012, the developer's past projects include the Arcade at the End of the Universe, Super Kitten Spacey Cat, Sad Paddle, Anachron's Arcade, Tweek, Slime Smasher, Munchy Monsters, Council of the Gods, and more. The one-man studio focuses on creating unique, original, and compelling free game downloads for mobile platforms. Flippy Uncle is the studio's first mobile game download published on the Apple App Store.
Visit the official Flippy Uncle website for the press kit and more information.