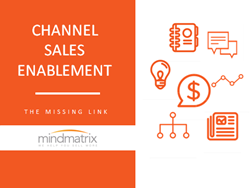 "Channel partners want guided sales processes, tools that take the guesswork out of what to say, when to say it and how to say it"
Pittsburgh, PA (PRWEB) May 31, 2016
Mindmatrix's channel enablement expert Russ York will be talking about the core element of channel enablement success--Channel Sales Enablement. Mindmatrix is a gold sponsor at the upcoming Channel Chief Conference to be held on June 2nd & 3rd at Santa Clara Marriott, CA.
The conference offers channel related thought leadership and networking opportunities and is also a great forum to learn more about the latest developments in channel sales and marketing enablement sphere.
Russ is excited at the opportunity to make a case for channel sales enablement at the Summit. "While channel marketing platforms do a decent job offering marketing support to channel partners, investing solely in a channel marketing tool won't cut it.", he says. According to Russ, what channel partners really want is a tool that will help them walk the last mile confidently to close their leads--or as Russ calls it, 'Solid support with tools that help channel partners sell'.
Russ echoes Mindmatrix's belief that for the channel sales model to work, companies need to support their channel partners throughout the entire buyer's journey. "Channel partners want guided sales processes, tools that take the guesswork out of what to say, when to say it and how to say it.", says Russ. He says this kind of a step-by-step guidance is what channel partners need at every stage of the sales process. "And, they also want the ability to reach out to leads at the local level, personalizing the offering as one of their own. This is what it comes down to: Channel Sales Enablement makes it easier for channel partners to sell," he adds.
Russ York will be presenting on Channel Sales Enablement, the Missing Link. Russ's presentation will touch upon why most channel enablement strategies fail and how companies can enable their channel partners better so that they quickly become revenue drivers for them.
Catch Mindmatrix at the Channel Chief Conference on June 2nd & 3rd at Santa Clara Marriott, CA to learn more.