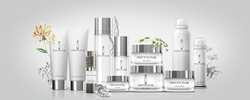 Perfecting the finest scientific complexes to revitalized skin from the inside out and sharing this knowledge with the world will ensure that together we can collectively bring out the best in our skin and in our health.
Zug, Switzerland (PRWEB) May 30, 2016
On the 30th of May, 2016, INSTYTUTUM AG, a Swiss luxury skincare company, built on the pillars of pure water, the art of giving, the synergy of science, and the love of education, is pleased to announce the launch of impeccable range of skincare products under the brand name INSTYTUTUM.
Featuring 11 signature products devised to rejuvenate, support and protect the aesthetic health of a variety of skin types, INSTYTUTUM have produced advanced variants on skincare staples. Using only the most exceptional of ingredients alongside progressive purified water solution, skincare essentials have been carefully imbued with breakthrough scientific complexes in order to boost everyday products to exceptional standards.
With three dazzling collections to purify, hydrate, and reduce the imprint of aging – it is the art of aesthetic health and the epitome of comfortable luxury.

The Purified Luxury collection provides the nurturing opulence of Cleansing Milk, Toner and Triple-Effect Peel to thoroughly remove everyday impurities whilst soothing and nourishing the skin.
Ageless science combines active scientific anti-aging solutions for skin whilst delivering a visible, uplifting rejuvenation. Dynamic yet sumptuous, the collection brings together Serum, Day Cream, Lifting Cream, Body Cream, Eye Cream and the outstanding Oyster Renewal Serum for significantly smoother, younger looking skin.
Active Hydration delivers a drench of restorative power, packed with energising freshness and the protective properties of rich antioxidants. Featuring both Alive Water (a spritz for the face) and Body Rain (for everywhere else), Active Hydration products battle fatigue, protect against toxins and restore firmness and radiance of the skin.
To achieve this new outlook on beauty, INSTYTUTUM has created Aesthetic Health, a skincare philosophy that pulls together the silver threads of appreciating outer beauty with practicing a lifestyle that brings your inner beauty bubbling to the surface.
INSTYTUTUM's Pillars

Water: Offering the purest water in the world is no simple feat which is why every drop of INSTYTUTUM's pure water is crafted to sheer perfection.
Science: INSTYTUTUM enhances the strength of pure water with scientific complexes to allow the entire organism to start its natural rejuvenation process at the cellular level. Each skincare product is crafted using a unique scientific formula to target the skincare problem at its source bringing back natural beauty to the surface of the skin.
Education: Through years of scientific research, INSTYTUTUM has amassed a considerable amount of skincare knowledge. With a global community, INSTYTUTUM will bring together doctors and fans alike to ensure that every skincare decision is based on the beauty of education.
Community: For every skincare product purchased, INSTYTUTUM will fund a clean water initiative powered by science and education in one of the many remote destinations in need.
INSTYTUTUM's founder, Dr. Natalia D, sought out the best scientists, dermatologists and bio-chemists to create a world where pure water and scientific complexes come together – a revolutionary skincare range that works in harmony with the body.
Dr. Natalia D commented on this occasion: "Today we are proud to announce the launch of INSTYTUTUM, the luxury skincare brand, founded on our idea of aesthetic health combined with pure water and the unique scientific formula. Perfecting the finest scientific complexes to revitalized skin from the inside out and sharing this knowledge with the world will ensure that together we can collectively bring out the best in our skin and in our health. Taking care of our body, mind and soul helps us to walk lightly through this world and ensures that not only do we learn to care for ourselves and our appearance, but that we pour as much love and attention into nurturing our inner nature so it helps us to shine from the inside out."
About INSTYTUTUM
INSTYTUTUM is a new innovative luxury skincare brand featuring products, which are designed to promote natural rejuvenation at a cellular level and anti-aging effect. Based on the work and research of Dr. Natalia D, products are infused with the standout ingredient of specially curated water with the purity of a five-step filtration process. At the core of INSTYTUTUM's strategy is a passion for scientific and dermatological advancements and a belief in the restorative power of nature. All products are currently available to buy from our website.
About the INSTYTUTUM Foundation
As a socially responsible and sustainable brand with an ethical heart, INSTYTUTUM also considers that many communities around the world do not don't have access to clean water. INSTYTUTUM believes that this is a basic human right and has pledged to contribute to clean water initiatives in order to provide clean water filters to communities who need it. For every INSTYTUTUM purchase made, the company will donate directly to their clean water initiative. Visit the website to find out more about the foundation and ways that you can support clean water initiatives directly http://www.instytutum.com/charity
For additional information please contact us:
+41-41-511-20-50, customer.service(at)instytutum.com
http://www.instytutum.com
Discover our social media pages and our blog: Facebook, Twitter, Instagram, Pinterest, Blog