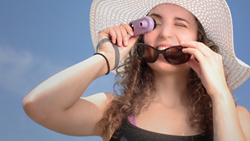 Our campaign's success validates that more people are becoming aware of the importance of skin protection and want to protect themselves and their family members
(PRWEB) May 25, 2016
Sunscreenr™, the waterproof, durable, ultra-portable viewer that shows sunscreen coverage and protection, has surpassed its funding goal on Kickstarter by raising more than $46,000.
Using patent-pending technology, Sunscreenr™ makes sunscreen immediately visible, allowing the user to quickly see if full coverage has been obtained and when it's time to reapply because sweat, sun, or toweling-off has worn away protection. Sunscreenr™ makes the invisible, visible so never again will sun protection be a guessing game.
"We are very happy with the response so far and would like to thank all of our backers," said Voxelight founders Dave Cohen and Jon Meyer. "Our campaign's success validates that more people are becoming aware of the importance of skin protection and want to protect themselves and their family members."
After applying sunscreen, a person looking through Sunscreenr™ will see dark areas that are covered – along with light areas that aren't covered and are still vulnerable to sunburns, sun spots and other forms of sun damage.
"Since May is Skin Cancer Awareness Month, we're thrilled to offer people a way to better protect their skin from harmful UV rays," added Cohen.
Sunscreenr™ is rugged and compact, measuring less than three-by-two inches in size, water- and sand-proof, and features a long battery life. If you're by yourself when applying sunscreen, Sunscreenr™ has a "selfie mode" that allows you to film yourself and then replay it to see any areas you might have missed.
Sunscreenr's Kickstarter campaign runs until June 24th. For more information about Sunscreenr™ please visit: http://Sunscreenr.com
About Voxelight
Founded by CEO David Cohen and Jon Meyer, who have a combined forty years of management, design, and product development experience, Voxelight's mission is to create innovative, technology-based products that use underexplored properties of light to create meaningful products for consumers. Voxelight is based in Raleigh, North Carolina. For more information, visit http://www.voxelight.com.