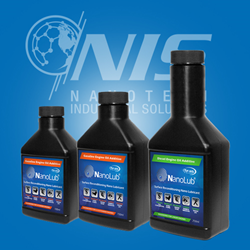 Avenel, NJ (PRWEB) May 26, 2016
NIS is proud to introduce their new NanoLub® Gas and Diesel Engine Oil Additives to their expanding line of fully formulated products.
NanoLub® Gasoline and Diesel Oil Additives are specifically formulated to significantly enhance the Anti-Wear and Anti-Friction properties of your engine oil. These new additives are based on our patented nanotechnology and offer your vehicle the protection they need.
"We are fresh off the heals of a successful debut of two other products Nanotech Oil Extend and Nanotech High Sulfur Diesel Clean Treatment at Expomin, and we are beyond excited to let everyone know about our new NanoLub® Gas and Diesel Engine Oil Additives. They are fully formulated and ready for immediate use in 4, 6, 8-Cylinder gasoline engines and of course larger diesel engines," says Todd Cawley, VP of Sales and Marketing. "These products are ready to ship and we expect them to just fly off the shelves."
NanoLub® Gasoline Engine Oil Additive comes in two sizes; 100ml for 4-cylinder engines and 150ml for 6 and 8-Cylinder Engines. Our NanoLub® Diesel Oil Additive comes in a 250ml size bottle and is engineered for larger engines.
To find out how to become a distributor of these products or NIS's other products lines, please visit our site for more information.