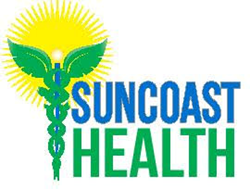 New York, NY (PRWEB) May 26, 2016
Suncoast Health Brands has leveraged the power of Cognizin® Citicoline for two new brain-health supplements designed to promote healthier brain activity.*
Cerebral Clarity and Focus are two of four supplements offered by Suncoast Health Brands to fuel the brain. Both use Cognizin® as the foundational ingredient for blends that may help the body combat stress and mental fatigue while improving memory performance, attention, alertness and antioxidant levels.*
"When we created our brain support line for Suncoast Health supplements, we wanted to use the best ingredients, which is why we decided to put our best foot forward, do the research and find the best ingredients on the planet for our Cerebral Clarity and Focus products," said Clay Desjardine, Suncoast Health Brand CEO. "We have created products we can hang our hats on and truly be proud to say are in our line. We know everyone is going to love them once they use them. One of those key ingredients we sourced is Cognizin®. We stand behind the quality and reliability of Cognizin®."
Citicoline is a compound that promotes the production of phosphatidylcholine (phospholipids), important for brain function. Phospholipids make up approximately 30% of brain tissue, aid neural communication and provide essential protection for neurons. Clinical research has shown that citicoline has multiple applications and is able to improve various aspects of the brain's physiological activity.*
Cognizin® Citicoline is a branded form of citicoline, an essential substance for brain health. Citicoline works to enhance communication between neurons, maintain normal levels of acetylcholine, protect neural structures, and enhance health brain activity and energy.*
Click here for more information about Cerebral Clarity with Cognizin® Citicoline: https://www.suncoasthealthbrands.com/product/cerebral-clarity/
For details about Focus with Cognizin® Citicoline, click here: http://www.cognizin.com
About Suncoast Health Brands
Suncoast Health Brands' entire product line offers exclusive fusions of naturally sourced raw materials that support a healthy life. Suncoast Health Brands maintains full control over the entire product manufacturing process. Every product is formulated and produced in an FDA registered plant which operates in compliance with current good manufacturing practices (cGMP), the guidelines mandated by the Food and Drug Administration. Every aspect of Suncoast Health Brands' products is tested -- from raw materials to finished products. These standards are tracked in batch production records to ensure consumer safety standards are met and exceeded. All Suncoast Health Brands' products are proudly manufactured in the Tampa Bay Area. Suncoast Health Brands product lines include ProCharge Liquid Protein, Suncoast Health Supplements, Suncoast Pet Health and Nu Glacé Skin Care. For more information, visit https://www.suncoasthealthbrands.com/.
About Cognizin
Cognizin® Citicoline, manufactured by Kyowa Hakko Bio Co., Ltd., is a clinically studied and patented form of Citicoline, a natural substance found in every cell of the body and especially vital to brain health.* Citicoline is a potent brain-health nutrient. A proprietary form of citicoline, Cognizin® has been clinically studied to support mental energy, focus, attention and recall. Cognizin is manufactured through a patented fermentation process to yield high quality and high purity. Cognizin is also highly stable, GRAS, ultra-pure and allergen-free. For more information on Cognizin, visit http://www.cognizin.com.
*These statements have not been evaluated by the Food and Drug Administration. This product is not intended to diagnose, treat, cure, or prevent any disease.
About Kyowa Hakko USA
Kyowa Hakko USA is the North & South American office for Kyowa Hakko Bio Co. Ltd., an international health ingredients manufacturer and world leader in the development, manufacturing and marketing of pharmaceuticals, nutraceuticals and food products. Kyowa is the maker of branded ingredients including Cognizin® Citicoline, Lumistor® L-Hydroxyproline, Pantesin® Pantethine, Setria® Glutathione, as well as Sustamine® L-Alanyl-L-Glutamine. For more information visit http://www.kyowa-usa.com.