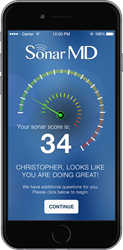 "This project demonstrates a cost-effective, infinitely scalable way to improve individual patient care outcomes, improved collective health of patient populations, and reduced per capita cost of healthcare.
(PRWEB) May 25, 2016
SonarMD™ has announced a major update to its revolutionary population health care management platform used by a growing network of gastroenterology practices specializing in patients with Crohn's Disease.
The SonarMD platform, developed by Illinois Gastroenterology Group (IGG) Managing Partner, Dr. Lawrence Kosinski, MD, MBA, AGAF, FACG, is a secure, web-based application that allows clinicians to monitor and respond to their Crohn's patients' health status between visits through the ongoing use of electronic health assessment surveys, or "Pings."
While providing an immediate benefit to patient participants, the SonarMD platform also deploys sophisticated analytics capabilities, using the collective data generated by patient input over time to help care professionals generate new, better, evidence-based care pathways.
It the latest release, SonarMD has added a number of enhancements, including:
1) An optional message window at the end of the electronic survey that allows patients to send free-form comments about their health status to their care providers;
2) The option to add additional questions at the end of the electronic surveys in order to gather data specifically relevant to SonarMD partner companies and their clinical research:
3) A new detailed dashboard view of patients' past responses to their ping surveys side-by-side, giving care providers a quick overview of trends in the patient's overall health status and responsiveness;
4) A link to open a manual survey page, allowing care providers to conduct a patient survey by phone or in person;
5) The addition of a page containing the patient's Supervisit report;
6) A tool to add a patient to the system's "Watch List" for more careful monitoring (that patient will receive two monthly surveys instead of the usual one);
7) The addition of a Communications tab that provides a listing of patients who have new messages for their care providers as well as those requiring completion of an annual consent to participate in the SonarMD program.
Since its launch a year ago, the SonarMD platform has been adopted by a rapidly growing network of Gastroenterology practices across the country, including IGG, Rockford Gastroenterology Associates, Digestive Health Specialists - Washington, Charlotte Gastroenterology, and Digestive Healthcare Center of New Jersey. To date, more than 100 physicians and Nurse Care Managers are utilizing the platform to manage care for their Crohn's patients with four more practices currently in the process of onboarding.
SonarMD has also formed and Intensive Medical Home (IMH) agreement with Blue Cross/Blue Shield based on the evidence of significantly improved health care outcomes for participating patients and the resulting decrease in their health care costs. In its first year of reported data, the SonarMD platform achieved an 80% response rate from patient participants who, in turn, saw a 50% reduction in hospitalizations and nearly 10% reduction in overall health care costs as reported by Health Care Service Corporation/BCBS. These results will be presented by Dr. Kosinski at the upcoming 2016 Digestive Disease Week (DDW) conference in San Diego and will also be published in an online supplement to Gastroentrology.
Says Dr. Kosinski, "This project demonstrates a cost-effective, infinitely scalable way to improve individual patient care outcomes, improved collective health of patient populations, and reduced per capita cost of healthcare for high-risk IBD individuals while improving the effectiveness and workflow of their front line providers.
"In addition," he adds, "for the first time, practices from across the country dealing with the complexities of Crohn's care have access to a common analytical data source which grows more relevant with each new group of participants. This data not only helps practitioners establish a shared set of best practices for their high risk patients but, in the process, also provides substantial benefits to patient insurance providers through reduced medical costs."
For additional information about SonarMD and opportunities to become part of the SonarMD network, visit SonarMD.com or call 847-370-8878.
About SonarMD
SonarMD is committed to the development of Care Management Algorithms for the management of patients with chronic disease. Its leadership team combines some of the nation's top leaders in clinical medicine with the technology strength of Mutare, Inc. Together they intend to bring the leadership and tools for providers to succeed in Population Health.