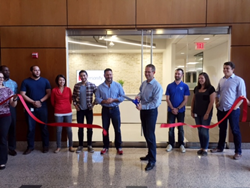 Austin, Texas (PRWEB) May 25, 2016
Personify, the leading provider of enterprise software and service solutions to mission-driven and member-focused organizations, celebrated the expansion of its office space in Austin on Tuesday, May 24th. With the addition of the new workspace, Personify now has over 100 employees working out of the northwest Austin location.
Personify opened its original Austin location in 2014, giving the software provider access to talented technical resources in the Austin area and easy access to Personify's expanding customer base across the country. The Austin location now houses resources in client support, product development, professional services, finance, human resources and sales/marketing.
"We are excited to expand our presence in the Austin community. Our strong employee base is reflective of the tech community in Austin and people's desire to work for an organization that supports nonprofit organizations doing great things," said Eric Thurston, Personify President and CEO. "We'll continue to expand in all three of our locations across the country in the coming year."
Personify also has offices in Oak Brook, IL and Vienna, VA.