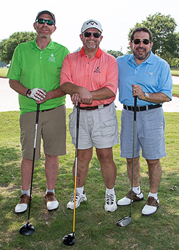 "We are thrilled to be able to donate to such an outstanding organization. Lone Survivor Foundation founder Marcus Luttrell, and all of those serving our country, are true American heroes," continued Behar.
Cypress, Texas (PRWEB) May 26, 2016
North Cypress Medical Center hosted its 9th Annual Spring Classic Golf Tournament on Friday, May 13 at Blackhorse Golf Club in Cypress. With the help of community partners, the event organizers raised $45,000 for the Lone Survivor Foundation, a non-profit that restores, empowers, and renews hope for wounded service members and their families through health, wellness, and therapeutic support.
A special military three-plane Lonestar Freedom Flight, out of Conroe, Texas, performed a symbolic fly-over honoring fallen heroes to kick off the tourney. Fifty-four teams participated in the tournament.
North Cypress CEO and Chairman of the Board Dr. Robert A. Behar said, "As the largest and oldest community hospital in Northwest Harris County, we have an obligation and desire to give back to the community we serve. We were pleased to again be joined by so many area businesses and organizations in this charitable endeavor."
North Cypress Medical Center's golf tournament has contributed more than $180,000 to the Lone Survivor Foundation in the past four years. "We are thrilled to be able to donate to such an outstanding organization. Lone Survivor Foundation founder Marcus Luttrell, and all of those serving our country are true American heroes," continued Behar.
Lone Survivor Foundation's Executive Director Terry Jung stated, "Our foundation appreciates North Cypress and all of the community sponsors. This support from the community will help us host 31 therapeutic retreats, up from 16 last year, for returning service men and women and their families."
Diamond sponsors: Alliant Insurance Services, Medical Properties Trust and Sheridan Insurance Group.
Platinum sponsors: Advanced Orthopedics & Sports Medicine, Cypress Emergency Associates, Davis Stokes Collaborative, P.C., Kelly, Sutter & Kendrick, LMI Painting, LLC, Texas Medsurge and U.S. Anesthesia.
Gold sponsors: Bright Lights, Camfil, Cypress Millwork, Inc., EEPB, P.C., Frost Bank, Garratt Callahan, Healthcare Revenue Management Group, HealthSouth Rehabilitation Hospital of Cypress, Iberia Bank, Texas ENT, Towne Lake – A Caldwell Community, Rayco Mechanical, Resource Corporation of America and Law Feehan, Adams, LLP.
Lunch sponsors: Benchmark Engineering Corporation, Freddy's, Houston Eye Associates, Houston Pulmonary & Sleep Associates, Innovative Sign Group, Pita Pit, Raising Cane's, Radler Enterprises, Inc., Specified Technologies Inc., Kim Keller, M.D., Ronald Taylor, M.D., and Cyfair Pulmonary Associates.
For a complete list of the sponsors, please click HERE.
To view photos from the event, please visit the North Cypress Medical Center Facebook Page and the North Cypress Spring Classic Facebook Page.
###
About North Cypress Medical Center
North Cypress Medical Center is a 175-bed physician-owned, general acute care hospital, founded by local physicians who wanted to create a sophisticated, upscale, patient-friendly healthcare environment for their community. Services include the latest, state-of-the-art medical technology and equipment, well-respected area physicians, and an upscale 5-star hotel-like patient experience.
Online: http://www.ncmc-hospital.com/
About Robert A. Behar, M.D.
Dr. Robert A. Behar is the Founder, Chairman of the Board and Chief Executive Officer of North Cypress Medical Center. North Cypress is a Tertiary General Acute Care Hospital located in Northwest Harris County. Dr. Behar has grown this entity over ten years from a startup to a comprehensive medical center with over $2 billion dollars in revenues and 1,200,000 square feet of improvements on 60 acres of land on four separate campuses.
In addition to managing the hospital, Dr. Behar practices medicine and serves as Director of the hospital's Cancer Center. A respected leader in his field, Dr. Behar earned his undergraduate degree from the University of Chicago with Honors (at the age of 19) and went on to become the youngest medical student in his class at the University of Chicago's Pritzker School of Medicine. He went on to intern at Northwestern University and completed his residency in Radiation Oncology at Stanford University where he was also the Chief Resident and named the American Cancer Society Research Fellow in Clinical Oncology. Dr. Behar has been involved in many Houston medical "firsts" such as Ultrasound Guided Transperineal Radioactive Palladium Seed Implants for Prostate Cancer, Photon Knife Radiosurgery for Inoperable Brain Tumors and Stereotactic Body Radiosurgery to cure previously untreatable cancers throughout the body. Dr. Behar also holds a MBA with Honors in Finance from the University Of Chicago Booth School Of Business.