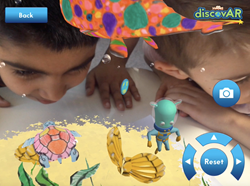 Coloring will never be the same again!
United Kingdom (PRWEB) May 26, 2016
Makers of 'stickers that come alive' are now crowdfunding their innovative new product with just 6 days to go on the campaign!. 'DiscovAR' is a traditional coloring book meeting 21st-century tech where kids can color-in a scene with normal pens or crayons and images come alive via free app. Using ground-breaking virtual reality technology, children can view their full 360-degree world through their smart device.
Find out more and see the Kickstarter at http://www.discovar.co.uk
Mardles – the hugely popular pocket money stickers that come to life in 3D using a free app – have launched a Kickstarter campaign to fund a revolutionary new product, the world's first educational coloring book that comes alive on a smartphone or tablet in both virtual and augmented reality.
Children can use any pens, pencils or paints in order to color the scenes from the book. Then by holding a smartphone or tablet over any page, characters and environments pictured appear in 4D using the exact same colours chosen by the budding young artists.
And while other big names have tried to bring similar ideas to life, British-made 'discovAR' is the first to use augmented and virtual reality in a colouring book that makes learning fun.
This means that while a scene will come to life in AR shown against a real-life background like the kitchen table, the app can also be switched to VR mode giving a full 360-degree view of the colored-in environment. Check out a video demo here
Kids can also customise their own alien character at the start of the app who then pops up in each of their AR scenes. But in Virtual Reality mode the alien acts as the child's eyes so they can explore using on-screen controls to move the character around.
The Kickstarter campaign runs until June 1, 2016 and the first run of innovative books shipped in September 2016.
The hugely popular Mardles stickers have already sold more than 200,000 packets in the UK and US since launch in mid-2015. Earlier this year they were featured across the British media as a top toy for 2016.
Each colouring book – themed on ideas such as underwater, outer space and wildlife, will also include three fun facts on each page to encourage children to learn. They will be available in four languages for worldwide audiences; English, Spanish, French and German.
Mardles 'discovAR' works with Apple, Android and Amazon devices. Like the stickers, 'discovAR' is a British success being 100% designed, developed and produced in the UK.
Co-creator and mum-of-one Sharon Wyness said: "We've been amazed by the success of the Mardles stickers and kids have been telling us that they'd love even more ways to bring characters to life. So colouring books seemed like the best idea. Children can still have all the traditional fun of colouring but by using the technology at their fingertips they can bring these scenes to life, watching in amazement as what's on the page appears in front of their eyes in the colours they've chosen. Most importantly for me as a mum, there are no expensive or special pens to buy. They can use all their own colouring stuff and parents are safe in the knowledge that, just like our stickers, there are no in-app purchases and once downloaded you don't need Wi-Fi (app) to make it all work. Just the free app."
Sharon, and co-creator James Murden, have come up with various options for Kickstarter backers. They range from a single PDF scene by email, through to a colouring book (including worldwide shipping) or an option with two colouring books plus a set of six pocket-sized action cards.
There is also a limited edition early backer set with four colouring books and the action cards (designed for use on the go) which will make the alien dance, clean his teeth & other cool 'actions'.
Shipping is expected to begin in September and James adds: "We wanted to do something truly revolutionary with our next product and this is the result – a fusion of AR and VR for the first time in a book like this. Kids love colouring. Kids love technology and apps. Thanks to 'discovAR', they can have the best of both."
For more information or images or to chat with Sharon and James, please contact james(at)alivelab(dot)co(dot)uk or call James on +44 (0) 07989 789 407