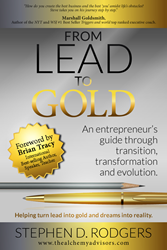 'The universe is conspiring towards your success.' -- Paulo Coelho
San Diego California (PRWEB) June 01, 2016
Stephen D. Rodgers went from a residential real estate agent to CEO of a Warren Buffet corporation in a matter of years. But life is about transitions, and Stephen learned how true success comes from within. In his new book, Lead to Gold, Stephen shares his secret to achieving success while highlighting how anyone can effectively use the energizing power of transitions, forced or chosen, to their advantage, just as he did.
Stephen's can-do attitude and visionary spirit carried him through his most recent transition from CEO to sought-after speaker, consultant, and author. In Lead to Gold, through personal experiences and self-reflections, Stephen tells his story of triumph and struggle and gives practical advice for entrepreneurs at any stage.
Lead to Gold is intended to inspire all those in transition who aspire to be a winner and evolve to the highest possible level in everything they do by introducing ways to use those transitions for greater transformations and evolutions, resulting in a more fulfilling career and life.
See in the video what Mark C. Thompson, serial entrepreneur, speaker, author and past associate/advisor to Charles Schwab and Steve Jobs has to say. Mark also currently works alongside Sir Richard Branson and many other top leaders and companies, such as Pinterest. https://youtu.be/wfNcTvgA-vE
Lead to Gold has been endorsed by some of the top leaders in the fields of business and tech, including Marshall Goldsmith, John Assaraf, and Brian Tracy.
"Using his gifts as an inspirational leader, [Steve] engages the reader with insights into setting one's path, and then building on that foundation through step by step advice about how to implement the necessary tasks of starting and building a successful small business."
—Marshall Goldsmith, Voted Top 5 Executive Business Coach Global Gurus
NY Times Best Selling Author: Triggers; MOJO; What got you here, won't get you there
"Lead to Gold is an exceptional book filled with real life lessons that any entrepreneur who is serious about success can devour and learn from. Steve shares his highs, lows, ups and downs in a way that will empower you to relentlessly go after your biggest goals and dreams."
—John Assaraf, Chairman & CEO, NeuroGym
"This fast-moving, enjoyable book takes you on a journey to greater success, loaded with ideas, strategies and inspiration that can transform your life."
—Brian S. Tracy
Lead to Gold is published by
Create Space/Amazon
Published on: 5/25/2016
Available online at Amazon.com
About the Author:
Stephen D. Rodgers is a business and lifestyle consultant, as well as author. Stephen has a knack for bringing out the best in people. A passion for nurturing success always has been Stephen's hallmark. While he was CEO/President of San Diego's Real Living Lifestyles Real Estate franchise, his inspiration helped ignite the company's phenomenal growth. Steve also served as President and CEO of Prudential California Realty, a division of Berkshire Hathaway affiliate Home Services America, Prudential California had generated over $25 billion in sales at its peak. Stephen was a major force guiding the company and its 4,600 agents to this milestone. Stephen started with Prudential and then Berkshire Hathaway as a branch manager, rising to the CEO position in only 11 years. During this period, he had repeated meetings with Warren Buffet and the numerous associates and high-calibre leaders that form his inner circle. Visit Steve's website at http://thealchemyadvisors.com/ for more information.
Contact:
Stephen D. Rodgers
PO Box 7103
Rancho Santa Fe, CA 92067
858-829-2969
steve(at)steverodgerstoday(dot)com