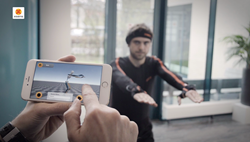 Enschede, The Netherlands (PRWEB) May 25, 2016
A new update to Xsens popular data analysis MVN Studio software brings unprecedented freedom of movement to motion capture, all by utilizing a common Wi-Fi network and a mobile device. When paired with Xsens MVN or MVN BIOMECH, update 4.3 allows users to transmit data from any location with Wi-Fi, and use a mobile device to control the recording.
"The update adds the flexibility to experiment wherever you want," said Xsens Product Manager Hein Beute. "Expanding our Wi-Fi and remote options makes motion capture even more accessible for our users. We are looking forward to see how our clients will take advantage of the new features."
A soft access point now does the heavy lifting, allowing motion capture data to be sent to any computer running MVN Studio on that network. With this flexibility, users can move about freely within range of their signal, inside or out, trusting that the data they produce is being sent to their chosen workstation.
The MVN Studio Update 4.3 also introduces a new app that works with iOS and Android mobile devices. After accessing the MVN Remote app on their device, users can start and stop the recordings being transmitted to their workstation over Wi-Fi. Instant avatar previews cut the time it takes to visualize intended motions, and remove the need to confine a project to a specific area.
You can find an image of the app in action here.
The MVN Studio 4.3 update marks the first major release for the software since the 4.2 update in June 2015. A video showing the software in action can be seen here.
Availability
The Xsens MVN and MVN BIOMECH are available from Xsens and its international distribution partners. MVN Studio, MVN Studio Pro, and MVN Studio BIOMECH are available through a yearly subscription or lifetime license. MVN Studio 4.3 is available to 'Software Maintenance and Support' subscribers now as a software and firmware update.
About MVN BIOMECH
A technology best known for bringing animated characters to life in games and films, is changing how human movement is studied in research and industry. The MVN BIOMECH system ensures reliable and accurate human motion measurements. Xsens' tiny motion trackers are able to capture the smallest twitches to high-dynamic movements on a body. The proven MVN BIOMECH biomechanical model and sensor-fusion algorithms ensure the highest quality motion analysis, even in challenging environments. This system transforms 3D human motion tracking into a wearable technology that can be used on production lines, sports fields, in vehicles and aircraft, in the home or any location where human body movement needs to be analyzed with a high level of accuracy. The Xsens MVN BIOMECH is available now from Xsens and its international distribution partners.
About Xsens
Xsens is the leading innovator in 3D motion tracking technology and products. Its sensor fusion technologies enable a seamless interaction between the physical and the digital world in applications such as industrial control and stabilization, health, sports and 3D character animation. Clients and partners include Electronic Arts, NBC Universal, Daimler, Autodesk, ABB, Siemens and various other leading institutes and companies throughout the world.
Xsens is a Fairchild Semiconductor company, an industry icon delivering power solutions for the mobile, industrial, cloud, automotive, lighting, and computing industries. Xsens has offices in Enschede, the Netherlands and Los Angeles, California.
######
Xsens and MVN are registered trademarks or trademarks of Xsens Technologies B.V. and/or its parent, subsidiaries and/or affiliates in the Netherlands, the USA and/or other countries.
Press Contact:
Liaison Inc.
Heidi Lowell, (503) 796-9822, Heidi(at)liaisonpr.com
Xsens Contact:
Remco Sikkema, + 31 88 9736700, Remco.sikkema(at)xsens.com