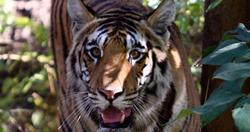 The safari triip a particularly good option for return visitors looking to expand their India travels.
Glendale, CA (PRWEB) May 27, 2016
Goway Travel is encouraging its globetrotters to discover the wildlife, temples, culture, and cuisine of India with a new summer special on one of its most exclusive India traveling ideas.
The Indian Wildlife Luxury Safari is an 8-day trip from Delhi. It takes in all of the multi-sensory attractions of the capital, before taking passengers to explore the temples of Khajuraho. The real highlight, however, is a tiger safari in Panna National Park. Embarking on game drives, globetrotters enjoy the rare treat of seeing these majestic animals in their natural habitat, returning between adventures to relax in luxury accommodations. Another safari opportunity awaits in Bandhavgarh National Park. Besides the tigers, passengers have the chance to see leopards, sloth bears, sambar deer, wild boar, and other creatures unique to the region. Game drives are taken at an optimal time to see the animals at their most active.
The safari trip is a particularly good option for return visitors looking to expand their India travels – those who've seen the Taj Mahal and want to experience the wonders less visited by tourists. But even first timers will enjoy this unique take on one of the world's most diverse and complicated countries, with the emphasis remaining on its wildlife. In addition, luxury accommodations at each stop allow guests to enjoy the perfect balance between culture shock and holiday comfort.
For guests who book by June 30, Goway is offering savings of up to $2000 per person on this unique India tour. Prices are based on twin share, and include seven nights staying in luxury safari lodges, six safaris, all park entrance fees, airport transfers, some meals and two domestic flights as per the itinerary.
Since 1970, Goway has been providing unforgettable travel experiences to Africa, Asia, Australia and New Zealand, polar and idyllic island destinations, Europe and South America. Today, Goway is recognized as one of North America's leading travel companies for individuals, families and groups to select exotic destinations around the globe. Goway has offices in Los Angeles, Vancouver, Toronto, Manila, and Sydney (Australia).
For reservations and information, visit http://www.goway.com, or call 1-800-387-8850.