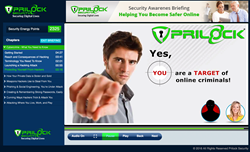 "Employees can never memorize all the different lies and tricks hackers can use in a phish attack, that's why Prilock teaches them the psychology behind the attack after showing them why they are valuable targets to hackers," Dan Hirning Prilock CEO
Carlsbad CA (PRWEB) June 07, 2016
Prilock Security is announcing the industry's newest proprietary delivery platform for its Best-of-Breed Security Awareness Training, and it's passing the savings on to its clients. Because Prilock uses the latest technology to enroll, deliver, track, and report company security briefings it has reduced its program costs substantially while offering businesses one of the best security awareness training's available today. And Prilock's Security Awareness Training meets all federal, state, and vendor standards for a comprehensive security awareness training.
Prilock's Security Awareness Training uses the highest quality graphics, voicing talent, animations, and adult cognitive learning strategies, presented in a story-based format that removes the tech talk for maximum levels of retention. This complete program is available to employees for a full year and includes best practice security updates, gamification for increased learning and retention, phish testing, full report analytics, assessment test, and Certificates of Completion for employees.
Current cyber attacks include phish email attacks with spoofed (faked) sender addresses, social engineering using phone calls (again with spoofed caller ID's), sending infected documents as attachments including images, PDF's, Word, and Excel documents all with luring titles designed for maximum open rates. New Salary Tables - Confidential, Security Update Notification, Emergency Password Reset, and Layoff Schedule for Q4 2016. One click and users are compromised with ransomware, a keystroke logger, or backdoor, jeopardizing company data, employee privacy, and exposing everyone to identity theft. Technology can't stop this, only professional security awareness training can help protect privacy and company data.
"Employees can never memorize all the different lies and tricks hackers can use in a phish attack, that's why Prilock teaches the psychology behind the attack after showing employees why they are valuable targets to hackers; because of who they are, where they work, or who they know," said Dan Hirning, Prilock CEO. "Everyone using the Internet has to understand they are targeted either directly or as part of blanket attacks to steal credentials, identities, or as potential ransomware victims. Every time we check email, receive a text or instant message we have to assume it is bad until proven safe."
Prilock provides everything needed in an easy to understand 3 step process so that small business owners to CISO's can easily deploy, monitor, and validate that employees, contractors, and vendors have been successfully trained.
Key Features in Prilock's Deployment Platform include:

Admin Dashboard – Graphical feedback on all activities and reports in real time.
3 Easy steps: 1. Create admin account 2. Upload email addresses 3. Select email template, and hit send.
Auto Scaling System – Prilock's State-of-the-Art deployment system will always deliver the full multimedia experience. Runs on all modern browsers and devices, employees can take in parts anytime, anywhere.
Learning Management System – A full service platform optimized for Security Awareness Training. Full reports and analytics allowing the ability to deliver and track courses for all employees
Phishing Tests – Multiple phish examples are presented to reinforce lessons.
Full Knowledge Assessment – 10 Question assessment requiring 80% passing score to complete the training successfully and print employee Certification of Completion.
For More Information Visit: http://www.prilock.com
About Prilock Security
Prilock Security was founded by security industry experts to provide an effective new way to train all users to avoid the evolving tricks and tactics used by hackers. Prilock's mission is to help people around the world protect their identity, privacy, data, and devices without the tech talk. The company has developed its proprietary delivery platform to provide on-demand scaling to handle enterprise level demand while also providing a seamless and smooth user experience during large surges of activity when supporting large data breach response initiatives and national fundraising events.