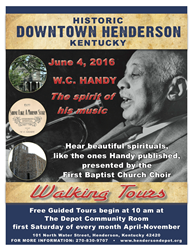 Henderson, Ky. (PRWEB) May 27, 2016
The Depot Community Room's next Historical Walking Tour will take place on Saturday, June 4, at 10:00 a.m. The tour theme is centered on W.C. Handy, "Father of Blues," music. Tour starting point is 101 N. Water Street, Henderson, Ky.
Handy, a Henderson resident, was responsible for bringing spirituals to the world by arranging, composing and publishing spirituals and hymnals through his Chicago and New York publishing companies. The First Baptist Church choir will perform similar hymnals during the tour.
The tour is an easy walk and is free. Donations to the First Baptist Church will be accepted.
This is the third walking tour in a series of eight tours offered on the first Saturday of each month April through November. The tour precedes the annual W.C. Handy Blues and Barbecue Festival, which will take place June 15-18, 2016.
For more information call 270-830-9707 or visit the website at http://www.hendersondepot.org.