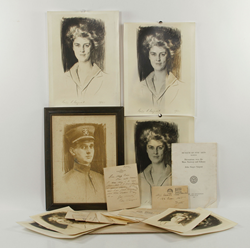 Beverly, Massachusetts (PRWEB) May 26, 2016
Kaminski Auctions held a two-day Spring Estate auction May 21 and May 22, 2016. Ephemera, formerly from the collection of Eleonora Randolph Sears of Prides Crossing, Beverly, Massachusetts, and Palm Beach, Florida, was the highlight of Day One and the collection was met with enthusiastic bidding from numerous athletic organizations, museums and individuals.
Interest came from the International Tennis Hall of Fame, The United States Squash Association, various museums and local family members vying for a piece of history of one the leading woman athletes of the 20th century.
Eleonora Randolph Sears was a prominent socialite from Boston's North Shore, and a great-granddaughter of Thomas Jefferson. Her athletic accomplishments included being an inductee of the International Tennis Hall of Fame in Newport, Rhode Island, the US Show Jumping Hall of Fame and she was the first female national squash champion, as well as coach of the U.S. Women's International Squash Team. She was also the first woman to play on a men's polo team gracing the fields of the Coronado Polo Club in San Diego, California.
The collection included fascinating photos, prints, and diaries of her life. All lots performed well, yet exceeding all expectations was a lot of five letters from John Singer Sargent with prints of a portrait Singer Sargent did of Sears, and 3 letters from Isabelle Stewart Gardner sold for $6,600, while a suitcase containing three squash racquets and a box of Wright and Ditson Championship tennis balls belonging to Sears brought $9,000 and was the top lot of the collection.
A travel photo album of Sears from the early 1900s consisting of a 183 photographs of her travels to Banff, Tokyo, Seoul, China, and India, was finally hammered down at $3,120, while a photo album and diary of her brother Frederick Sears III's trip to Greenland in 1899 bringing supplies to Lieutenant Peary's expedition sold for $2,520. A panoramic photograph of the Harvard vs. Yale football game from November 25, 2011, sold for $2,400, while two 19th Century engravings by John McRae, "The Marriage of Pocahontas," and John Burnet, "Sir Walter Scott in his Study," sold for $3,240.
An important abstract landscape by Claude Venard (French, 1913-1999), oil on canvas achieved $9,000 as anticipated and was the top lot of the day.
Chinese porcelain performed well on Sunday with a Chinese underglazed blue and copper red dragon moon flask selling for $43,200, while a Chinese blue and white bowl brought $22,800.
A determined floor bidder against the Internet pushed up the prices of several leaded stain glass table lamps that were signed "Tiffany Studios." A double poinsettia lamp realized $14,400, while a poppy style lamp realized $12,000.
Several continental decorative art lots achieved excellent prices with many European bidders winning the top lots. An exquisite and highly detailed set of French bronze doré and Siena marble figures of the four seasons sold for $9,000, while a German art nouveau silver center bowl marked German Schumacher, and a German Art nouveau silver paisley design centerpiece bowl with an etched cut glass insert signed "Wist," both realized $6,000. German porcelain fared equally as well with a pair of 19th century Meissen snowball vases going for $7,800 and a 19th century KPM plaque realizing $7,200.
An important Lord and Goddard Hepplewhite tall clock ascended from the original buyer since 1819 realized $9,600. Similar examples are part of the Winterthur and Bennington Museum collections. This special clock was numbered #112 and had a moon phase dial. The clock, in excellent condition, measured 86 ½ inches high and was complete with weights, key and pendulum.
Estate jewelry featured an 18-carat gold and diamond "Riveria" necklace. With 118 graduated round brilliant diamonds and a total carat weight of 18.30 CTW, measuring 16 ½ inches long, it sold for $16,800.
Sunday's estate auction featured the collection of Mark Avner of Lake Worth, Florida, and Buffalo, New York. An eclectic mix of treasures collected over a lifetime including Lot # 3387, a ventriloquist dummy in a suitcase named Gabby Redwood.
Purported to be by the same man who made Jerry Mahoney's Charlie McCarthy, the rare ventriloquist dummy was purchased in Hollywood, California, in 1968.
Gabby Redwood was part of the Junior Stars of America show that was recognized by Ronald Reagan for outstanding performance during the Vietnam War. Gabby Redwood made two tours of military installations and hospitals. Housed in its original box and dressed in what is thought to be the original clothes, the lot included a handwritten script, stating, "Good evening, friends. I am Deborah Leigh and this is my friend Gabby Redwood."
It was purchased for the own private collection by a board member of the Vent Haven Museum Inc. in Fort Mitchell, Kentucky, the "only museum in the world dedicated to the art of ventriloquism." It houses more than 800 ventriloquist figures and thousands of books, photographs and playbills, some of which date back to the 1700s.
Kaminski Auctions continues its June calendar with an auction on Sunday, June 5, and Saturday, June 18. For a full report of all prices realized, go to http://www.kaminskiauctions.com and sign up to bid with KaminskiLIVE.