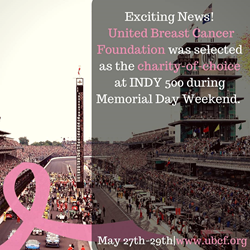 UBCF's debut PSA will help raise awareness about male breast cancer.
Huntington Station, NY (PRWEB) May 27, 2016
United Breast Cancer Foundation (UBCF) announces the debut of a new Public Service Announcement at the Indianapolis 500, "The Greatest Spectacle in Racing"! The spot, scheduled for released at the Memorial Day weekend event (May 27-29, 2016), will air twice per hour, making an estimated 1.4 million impressions. The new PSA will help raise awareness about male breast cancer and inform those in need that support and assistance is available through UBCF programs.
It is estimated that 2,600 men will be diagnosed with breast cancer this year, and 440 will lose their battle with the disease. One reason for such a high mortality rate is that men are not encouraged by health professionals to self examine or be screened for breast cancer. UBCF encourages men to learn the male self-breast exam and to be routinely screened by a doctor.
UBCF Executive Director Stephanie Mastroianni says, "The United Breast Cancer Foundation is so grateful to be a part of the Indianapolis 500 for the second year running. It is critical that we reduce stigma and increase awareness of male breast cancer as 1 in 1,000 men will be diagnosed with this disease." Ms. Mastroianni added, "UBCF is especially grateful to Grazie Media for providing the opportunity to reach hundreds of thousands of people. UBCF encourages men to increase self-awareness and pursue medical attention if a concern should arise. UBCF is here to help."
During the three day event UBCF representatives will interview spectators, distribute information, and let attendees know that UBCF programs are available across the country. In addition to reaching event attendees, people watching from home may also view the UBCF's PSA during the race when the jumbo-tron announcements are on-screen.
UBCF is committed to offering breast health and wellness services focused on cancer prevention, screening, treatment and over-all wellness. UBCF's mission, to make a positive difference in the lives of those affected by breast cancer, is carried out every day through seven life-supporting patient and family programs available to women, men and families nation-wide. UBCF never denies services to anyone regardless of age, race, gender, ethnicity, income or medical insurance coverage. If you are in need of breast health services, please visit UBCF at http://www.ubcf.org or call toll-free, 877-822-4287. Tax-deductible contributions may be made towards UBCF's programs. UBCF accepts vehicle and property donations as well. Contributions may be mailed to UBCF, P.O. Box 2421, Huntington, NY 11743, or donate through the Combined Federal Campaign, #77934.