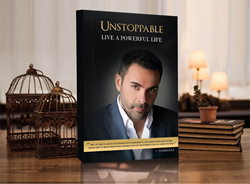 Learn how to live a powerful life
Los Angeles, CA (PRWEB) May 26, 2016
Yanni Raz, a local real estate tycoon, has announced the release of his new book titled Unstoppable. The book highlights the long road that Raz has taken to achieve financial and personal success, while explaining how overcoming struggles can create indomitable personality traits that can lead to a fulfilling and gratifying life.
Brief Synopsis of Unstoppable
Unstoppable follows the struggles Raz experienced during his ascent from meager beginnings to real estate profitability. From being pronounced dead at the age of 19, while serving in the Israeli military to sleeping on the streets of New York City as a musician, the book outlines how the author discovers the keys to success, despite overwhelming odds.
"Unstoppable really originated as a means of remembering where I came from," states Raz. "Because it is so easy to get caught up in the whirlwind of professionalism, I wanted to be sure that I took a moment to appreciate not only what I've overcome, but the people who I've met along this wonderful journey. Because truthfully, caring about others is one of the most important aspects to a successful and fulfilling professional career."
Raz continues: "Strangely enough, the tale includes my discovery of poker, of all things, which helped me to better manage my finances, while making sound and educated decisions with incomplete information." He then laughs, "I guess, now that I think about it, sitting at the poker table is a lot like being in business."
"If this book can empower just ONE individual, then I feel that it has served its purpose," he concludes. "Sharing knowledge can inspire change. Things are never as bad as they may seem – we just have to keep pushing forward."
Los Angeles Book Release Party
Unstoppable will be released to the public on Thursday, June 9th at Stir Restaurant and Lounge in Sherman Oaks, CA. The event begins at 8pm, and the author will be on hand to discuss the book, as well as sign copies for interested attendees. Books will be available for purchase at a discounted price of $14.99 for the release.
National distribution for Unstoppable will ensue, as it will be available at all major retailers in the United States. The book will retail for $24.95.
About the Author
Yanni Raz is a principle partner of HML Investments, a Los Angeles-based real estate firm. In addition to managing the company, he also has a popular Facebook and YouTube segment titled "Tips of the Day". The segment draws entrepreneurs from across the country together to discuss various elements of business, finance, and real estate, while also highlighting some keys to success that they have discovered throughout their respective careers.
For More Information –
For more information on Unstoppable, the author Yanni Raz, or the book's upcoming release, please contact
Name: Yanni Raz at http://www.YanniRaz.com
Facebook event page: https://www.facebook.com/events/1746493475598502
https://www.facebook.com/yanniraz
https://www.Instagram.com/yanniraz