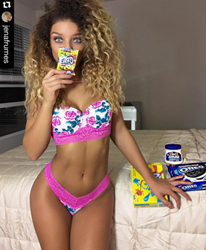 Atlanta, GA (PRWEB) June 08, 2016
Popular shape wear brand 1800Cinchers has recently undergone a brand makeover. They are now called "BodyFab". The brand has evolved over the years, from being a standard shapewear retailer to becoming more of a trendy and hip fashion brand for all. Along with the new name, the brand has introduced new categories of merchandise: They now carry swimwear, lingerie and other trendy fashion apparel. Each of their products are available in plus and smaller sizes.
The success that 1800Cinchers, now BodyFab has had with celebrity endorsements has helped them takeover the shapewear market. Celebrities like Jennifer Williams, Jordyn Woods, Gretchen Rossi, Khloe Kardashian and Carmen Electra all consider BodyFab to be their go to shapewear line. As shown below, celebs show their "BodyFab love" on social media, modeling their lingerie, swimwear and bodyshapers.
As mentioned earlier, along with the new name, BodyFab has introduced a new lingerie line along with a swimwear line. The new lingerie line consists of bras, panties, robes and body suits. All of these items come in various styles and colors. Each style comes in sizes from small to 4X, catering to women of all sizes. The swimwear line consists of slimming swimsuits, high waist bikinis, plus sized swimsuits and one-piece swimsuits.
More about BodyFab:
Based out of Atlanta, GA, BodyFab has become a household name in the world of lingerie and fabulous swimwear. The brand has been featured in esteemed media outlets such as "Shape Magazine", "Health Magazine", "The Oprah Magazine", "The Wendy Williams Show" and "The Real" daytime talk show. This popularity carried on via thousands of customer feedback and celebrity mentions.
This, in turn, made the brand even more popular among celebrities who shared their love of BodyFab products with the world. With global regional offices in 3 continents - America, Europe and Africa, their growth is a direct reflection of the strong commitment and drive for excellence from staff members to the president and founder.
To learn more about BodyFab, go to:
http://www.BodyFab.com
You may also visit their social media pages, listed below:
Instagram: @1800Cinchers, @bodyfab
Twitter: @1800Cinchers or shopbodyfab
Facebook: 1800Cinchers