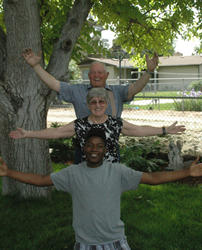 We've traveled a lot with Salim, and he's seen many lovely places, but what we noticed is his appreciation and respect for all people in every walk of life.
San Francisco, CA (PRWEB) May 26, 2016
Ayusa International hopes to find families throughout Idaho who will volunteer to open their homes to an international exchange student for the 2016-2017 school year. Families like the Loughs, who welcome exchange students on a regular basis, contribute to the global community as public diplomats for greater international understanding. Currently, Ayusa is seeking host families in the following cities:

Nampa, Boise
Post Falls, Coeur d'Alene
Twin Falls, Pocatello
The Lough family from Nampa has hosted Ayusa exchange students continuously over the past several years, including young people from Ghana, Finland and Malaysia. This year, Louise and Al took in Salim from Kenya, who has been attending Liberty Charter School since last fall.
"Salim has joined in with everything we've done, never complaining or saying that he wants to do something else," said host mom Louise. "This shows it's very important to him to be a part of a loving family." She added that the number of hours of community service he has put in "is amazing – I stopped counting at 340, but he's still doing more. He feels that he has learned more from helping others than anything he has done to benefit them," she added. 
"We've traveled a lot with Salim, and he's seen many lovely places, but what we noticed is his appreciation and respect for all people in every walk of life," Louise continued. "For example, he's visited my elderly parents in Twin Falls several times and absolutely loves them. Mom told him last time he was there that he had to come back to the U.S. soon, because she was really going to miss him."  
Ayusa works with families from all backgrounds who are interested in hosting. Many families are not the typical "nuclear family" that so many think of as American. Families with or without children, empty nesters, military families, retirees, and single people are all welcome. Ayusa families come from all over the country and reside in rural, suburban and urban communities.
Cathy Galli-Vaneveld, the regional manager who supports the state, notes that Idaho is a particularly popular state for exchange students. "Our students are excited about spending a year with a host family in America's historic 'Wild West,' and learning about our culture," she said.
Host families volunteer to provide their exchange student with three meals a day and a bedroom (private or shared). Each host family, student, and school is supported by a professionally trained Ayusa representative throughout the program year.
Ayusa's exchange students are 15-18 years old and come from more than 60 countries around the world. Students are fully insured, bring their own spending money, and are proficient in English.
How to Host an International Student
Interested families can learn more about the program and available exchange students and request additional information by visiting http://www.ayusa.org or calling 1-888-552-9872.
The process to apply is simple. Families complete the online application, which includes questions about themselves and local high school, references, and a background check. The local Ayusa Community Representative conducts an in-home interview. They can also help each family with any questions they may have about the application or process.
After families are fully approved, they can select the Ayusa student they would like to host.
About Ayusa
Ayusa International (http://www.ayusa.org) is a 501(c)3 non-profit student exchange organization founded in 1981 and an official U.S. Department of State designated Exchange Visitor Program Sponsor. In addition, Ayusa administers high profile grant programs funded by the U.S. Department of State and other organizations. Ayusa is a sister company of Intrax, a family of organizations that provides a lifetime of high-quality educational, work and volunteer programs that connect people and cultures. Intrax is headquartered in San Francisco with offices on four continents.