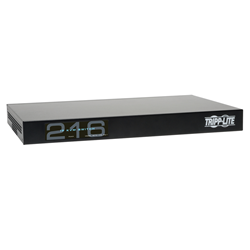 IT departments of all sizes can now centralize device management easily and affordably
Chicago, IL (PRWEB) May 26, 2016
Tripp Lite, a world-leading manufacturer of power protection and connectivity solutions, is now featuring new lower prices on their B070- and B072-Series of Cat5 rack-mount KVM switches.
The recent price drops allow IT managers to choose from several highly featured KVM switches and consoles for controlling an entire network while still managing expenses. These KVM solutions provide innovative features and exceptional quality, along with the reliability for which Tripp Lite has long been known.
Key Features of Tripp Lite's KVM Switches
-- Connect up to 32 servers with inexpensive Cat5 cabling
-- Sleek, compact design helps reduce cable clutter and improve airflow
-- Console switches include built-in LCD, keyboard and mouse
-- Models with IP access add flexibility of remote monitoring from virtually anywhere in the world
-- Multi-user capabilities, password protection and advanced encryption simplify IT tasks while keeping server access secure
"With these price reductions, IT departments of all sizes can now centralize device management easily and affordably," said David Posner, Tripp Lite's Director of Marketing for Cables and Connectivity. "Our KVM solutions are simply the best value available in the market."
For more information on these KVMs, visit: Tripp Lite Value-Priced Cat5 KVMs.
About Tripp Lite
Outstanding product reliability and exceptional service have been Tripp Lite trademarks for over 90 years. Tripp Lite's innovations include the world's first UPS system designed specifically for personal computers and the world's most trusted premium surge suppressor–the Isobar®–with more than 19 million in use. Tripp Lite maintains the highest level of ready-to-ship inventory in the industry with more than 3,000 different products, including UPS systems, rack systems and cooling solutions, PDUs, PowerAlert software for enterprise-level system management and control, surge suppressors, KVM switches, cables and connectivity products, inverters, power strips and notebook accessories. Headquartered in Chicago, Illinois, Tripp Lite maintains a global presence with fully staffed offices worldwide. Additional information, including a list of Tripp Lite's sales offices and authorized reseller partners, can be found by visiting Tripp Lite's website: http://www.tripplite.com.