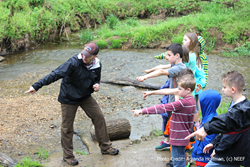 Studies have shown that environmental education and teaching lessons in an environmental context build critical thinking skills, foster leadership skills, and improve overall academic performance.
Washington, D.C. (PRWEB) May 26, 2016
Over the week of April 17-23, 2016, more than 400,000 people are estimated to have celebrated environmental education at more than 3,000 events in every state, DC, Puerto Rico and Guam as part of the 12th annual National Environmental Education Week (EE Week) - the nation's largest celebration of environmental education (EE).
A program of NEEF (National Environmental Education Foundation), and supported by national sponsor Samsung Electronics America, Inc., EE Week takes place over the week leading up to Earth Day each April, inspiring environmental learning among K-12 students, and beyond. Each year, EE Week events and projects take place across the country in classrooms, after-school clubs, parks, aquariums, museums, and other formal and informal educational settings.
"Studies have shown that environmental education and teaching lessons in an environmental context build critical thinking skills, foster leadership skills, and improve overall academic performance," said Diane Wood, NEEF President, "EE Week shines a national spotlight on the importance of environmental education by connecting educators across the country, sharing their stories, and engaging people of all ages."
NEEF and Samsung Electronics America invited environmental educators of all kinds, teaching any age, to take part in the nationwide celebration by registering their existing or new environmental education events, field trips, or projects happening on or around Earth Day as EE Week events at NEEFusa.org/eeweek. Educators who register their events or projects as EE Week events are recognized as part of a larger community of educators dedicated to advancing the field of environmental education. Registrants also receive discounts on EE publications and professional development resources for educators from NEEF's partners, as well as eligibility for certain grants and photo contests. Registration is still open.
This year's EE Week theme was "Greening STEM: Rooted in Math," concluding a multi-year focus on teaching STEM subjects through a hands-on, real-world environmental lens, an approach NEEF calls "Greening STEM." NEEF released a free, downloadable infographic and educator toolkit related to this year's theme. Both resources are available on the NEEF Greening STEM Learning Center, a portal on the NEEF website, which houses free activity guides, webinars, toolkits and infographics tied to local, state and national learning standards to help educators teach science, technology, engineering and math in an environmental context.
A few examples of 2016 EE Week events include:

Public Lands - Rogers Environmental Education Center, Catch-up and Mustard Day (NY): Community volunteers helped Friends of Rogers "catch-up" on spring cleaning tasks, such as adding mulch to hiking trails, trimming stray branches from walkways, and removing invasive garlic mustard plants.
Aquariums - National Aquarium, 48 Days of Blue Campaign (MD): In the 48 days between Earth Day (April 22) and World Oceans Day (June 8), participants will be challenged to make small changes in their daily lives that can significantly impact the health of our oceans and our planet.
After School Programs - Wellsville Middle School YMCA After School Program (NY): Wellsville YMCA kids helped to clean a local park in preparation for its annual trout derby weekend.
Elementary Schools– Lexington Elementary (MO): A science class lesson will revolve around helping students understand how they impact the environment.
Nature Centers – Hawk Woods Nature Center (MI): The Nature Center hosted an open house with guided tours along park trails for adults. Boy scouts also participated in activities focused on nature and forestry. Participants planted trees from the NWF.
High Schools – Marco Antonio Firebaugh High School (CA) - The students spent the week preparing their booth, "Salad Days with Marco Antonio," for an annual International Festival, with the goal of feeding the students and staff salads made from farmers market vegetables.
Private Schools - Children's University (TX) - Classrooms and specialty teachers utilized a variety of activities from the NEEF "Greening STEM: Rooted in Math" and "Surrounded by Science" Educator Toolkits.
Universities/Colleges– University of Kentucky (KY) – The students planted schoolyard gardens and worked at the Ecological Research and Educational Center, learning about bees, birds, and invasive species.
Last year, in celebration of EE Week, NEEF and Samsung Electronics America unveiled their first Schoolyard STEM Lab at Nizhoni Elementary School in Shiprock, New Mexico on the Navajo Reservation.
"We are delighted to work with NEEF to support and encourage hands-on learning to help students better understand how STEM can be applied to everyday life and how they can use it to create real change in their communities," said Ann Woo, senior director of Corporate Citizenship at Samsung Electronics America. "This partnership has helped us further our goal of inspiring the leaders of tomorrow to keep growing as students as well as active, thoughtful citizens who will work to protect the environment."
Samsung and NEEF have partnered for the past five years to coordinate National Environmental Education Week, a program that compliments Samsung's "Solve for Tomorrow" initiative, which raises student interest in STEM subjects nationwide to equip and inspire the work-force of the future. Other NEEF programs include National Public Lands Day (September 24, 2016), Rx for Outdoor Activity, and "NEEF Weekly," science-based articles on climate and weather topics for meteorologists and the general public.
The public is encouraged to continue to engage in the EE Week conversation throughout the year on social media via the hashtag '#EEWeek' or by following NEEF on Facebook and Twitter.
###
About NEEF
NEEF was chartered by Congress in 1990 to partner with the EPA to advance environmental literacy nationwide. NEEF's vision is that by 2022, 300 million Americans actively use environmental knowledge to ensure the wellbeing of the earth and its people. To achieve its vision, NEEF offers science-based, unbiased information through its own communications platforms, as well as a network of trusted professionals and affinity communities that, with their relationships and credibility, amplify environmental messages to national audiences. NEEF also implements environmental education investments in areas that best connect with everyday life: health, weather + climate, and nature where we live, learn, work, and play. Learn more at NEEFusa.org – or follow NEEF on Facebook and on Twitter @NEEFusa.
About Samsung Electronics America, Inc.
Headquartered in Ridgefield Park, NJ, Samsung Electronics America, Inc. (SEA), is a recognized innovation leader in consumer electronics design and technology. A wholly owned subsidiary of Samsung Electronics Co., Ltd., SEA delivers a broad range of digital consumer electronics, IT and home appliance products. Samsung is the market leader for HDTVs in the U.S and America's fastest growing home appliance brands. To discover more of the award-winning products you love with Samsung, please visit http://www.samsung.com and for the latest Samsung news, please visit news.samsung.com/us and follow on Twitter @SamsungNewsUS.