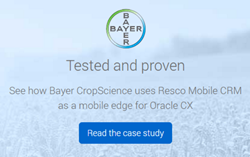 Delivering a native connection between Resco Mobile CRM & Oracle Sales Cloud means taking the solution and the company to a whole new level—attracting as a mobile-first solution for Oracle CX technologies, to the Oracle ecosystem, said Radomir Vozar, CEO
Boston, MA; Fresno CA; St. Louis, MO; San Diego, CA; San Francisco, CA; New York, NY (PRWEB) June 02, 2016
Thanks to the native connector Resco Mobile CRM incorporates, Resco is able to offer a platform for a complete mobile strategy for any organization that utilizes Oracle cloud technologies.
Resco's flagship product, Resco Mobile CRM, is optimized to complement existing back-end systems, so it can offer Oracle cloud users the offline/online access to their data via mobile devices at any time. The integration of Resco Mobile CRM and Oracle cloud solutions does not require any specific data setup.
The Oracle partnership enables Resco to extend the community of its business partners, vendors, suppliers, stakeholders, customers, and other business allies.
The native connector eases the transition into mobility for businesses and enables them to leverage a market-proven application. Sales, service teams, and executives that require quick and uninterrupted access to the Oracle cloud services, represent the common user cases of Resco Mobile CRM.
See how Resco helped Bayer Crop Science overcome two challenges, simultaneously, to enable further working environments with Oracle CX solutions.
About Resco
Resco, founded in 1999, is one of the global leaders in developing cross-platform mobile software solutions. The Resco team of professionals, utilize their knowledge by designing products for corporate customers, developers, integrators, and end users. Resco Mobile CRM, its key product, is the cross-platform mobile client with advanced customization capabilities and the number one client for Microsoft Dynamics CRM. The app — which gives users around-the-clock access to their CRM data from anywhere — comes with a full offline mode, interactive maps, support of custom entities & many other attributes that make it the product people love to use.