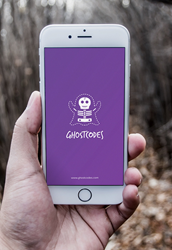 GhostCodes is the first of many innovations that will come out of Softway. Frank Danna
Houston, TX (PRWEB) May 27, 2016
GhostCodes is a free mobile application that gives Snapchat users the ability to create profiles and find people to follow. Since its debut this year at SXSW 2016, where Mazda called it "one of the most innovative apps at the festival," GhostCodes has quickly grown in user base to become the single most influential discovery app for Snapchat.
GhostCodes is the brainchild of Frank Danna and Hunter Harrison, Social Strategy Directors at Softway, an agency based in Houston, TX. Since the duo works daily with Softway clients to build strategic plans, create original content, and launch campaigns on social platforms like Snapchat, it was only natural that they would identify an opportunity to innovate and enhance the platform. "As we became more and more ingrained inside Snapchat, we realized that there was no good way to find people to follow," Harrison says. "That's when we decided to build GhostCodes."
To help make the dream of getting Ghostcodes into the hands of millions of users, Danna and Harrison worked closely with Softway's President, Mohammad Anwar, to map out a release strategy, create a legal entity, and secure necessary resources. Currently, the Ghostcodes team at Softway is growing by the day with a stellar roster of UX designers, Visual Designers, Writers, Front End Developers, Back End Developers, Strategists, and Marketing Coordinators. Anwar notes, "When Frank and Hunter approached me about GhostCodes, I knew Softway had to go all in. We have an incredible team that's creating content for brands on social media and pushing what's possible on emerging platforms—we're putting our whole team behind GhostCodes and it's paying off."
Danna adds, "I think it's incredible to have your colleagues and your company help you bring a dream to life. GhostCodes is the first of many innovations that will come out of Softway."
Under the leadership of Danna and Harrison and with support from the Softway team, GhostCodes is on course to shatter records and eclipse all expectations, garnering accolades from users, bloggers, and influencers throughout the industry.
GhostCodes in the media:
"A brilliantly simple app that lets you find interesting people on Snapchat and helps you get discovered in turn."
http://www.fastcompany.com/3060158/what-your-company-needs-to-know-to-get-started-on-snapchat
"5 can't-miss apps: GhostCodes, Boom, 'Spinny Phone' and more."
http://mashable.com/2016/05/15/5-cant-miss-apps-ghost-codes-spinny-phone/#bhfU8vBIZsqq
"One of the most innovative apps of the festival."
https://twitter.com/MazdaUSA/status/718180958105526272
"How to Discover the Best Content on Snapchat; Ghostcodes app makes Snapchat discoverability a real thing."
http://www.inc.com/joel-comm/how-to-discover-the-best-content-on-snapchat.html
"GhostCodes App Finds Snapchat Users For You To Live Your Best Snap Life."
http://www.bustle.com/articles/161164-ghostcodes-app-finds-snapchat-users-for-you-to-live-your-best-snap-life
About Softway
Softway is an independent agency that creates transformative experiences for businesses through strategy, design, development, social influence, and product incubation. Softway operates two offices—Houston, TX and Bangalore, India—and employs a team of 150+ passionate people who proudly serve some amazing clients.
About GhostCodes
GhostCodes is a free mobile app for iOS and Android that helps Snapchat users answer the question "who should I be following on Snapchat"? With dozens of categories and thousands of interests, GhostCodes helps you find like-minded Snapchatters, make more friends, grow your following, and have more fun on Snapchat.