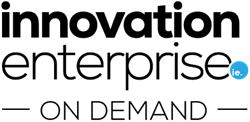 The quality of the speakers was extraordinarily high. They had solved difficult problems and told their stories well. Usually, I'm exhausted at the end of a presentation. This time, I'm energized!
New York City, NY (PRWEB) May 27, 2016
Innovation Enterprise, a world leader in enterprise innovation media, has been providing executives with cutting edge business education content since 2012 through its On Demand service, delivering actionable insights and ideas to users that they can leverage to drive success and build competitive advantage. The last four years have seen its library of videos grow to over 11530+ presentations from 9340 speakers, with industry leaders from Fortune 500 companies and the most exciting startups sharing their vast range of knowledge and experience.
From today, this resource has been completely reinvented under a new brand identity, utilizing new technologies and processes to offer better functionality. This will enable members to more easily access and view the same extensive library as and when they desire, with another 160 hours of presentations added every month, and all in higher quality display. Slide decks are also available for download so they can be viewed offline, anywhere at anytime.
Members will be able to benchmark themselves against competitors to create measurable objectives, receiving monthly content on the latest trends to validate current and future initiatives and optimize results, as well as enabling continuous improvement to help them progress as rapidly as possible in their careers and fulfill their potential.
Kirsty Donovan, the Product Manager said: 'The changes made to the platform make it a truly unique resource. The same industry leading content will all still be there, but this redesign makes the user experience far smoother, and ideas will be even more accessible so they can be more easily leveraged whenever is necessary.'
The rebrand will see the name changed from ieOnDemand to Innovation Enterprise OnDemand, better reflecting Innovation Enterprise's core purpose of providing organizations with new ideas to create a more exciting future. Using this new service, members will also have the opportunity to engage directly with speakers via email, and receive personal responses to any questions they may have about ideas raised in the presentation, and possible solutions to the challenges facing them in their own industries.
Discover content in your specialism or all content across 9 specialist areas. Check out the newly released platform: https://ieondemand.com/home