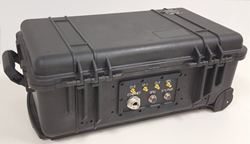 Fairfax, Virginia (PRWEB) May 28, 2016
FLEXIBILITY AND PERFORMANCE:
The COnDOR payload offers a great deal of flexibility in planning and executing real-time synthetic aperture radar (SAR) imaging (single or multichannel) and ground moving target indicator (GMTI) radar missions. Intuitive mission planning software enables designation of geographic areas for monitoring & imaging, configuring radar payload settings in conjunction with flight planning, providing high-quality georeferenced SAR images to 1m resolution or better at ranges of up to 10km and beyond, in all visibility conditions.
Operated from a standard laptop via a standard Ethernet connection (either on the aircraft or remotely from a ground station via a wireless link), a customer can quickly configure the system to meet their imaging requirements, and rapidly generate high-quality SAR imagery, on-board and in real-time. The raw phase history is stored internally, and can also be transferred via Ethernet if desired. Trident's RAPTOR Workflow software tool is provided to support mission planning, radar sensor configuration, real-time operation, and results analysis. It can generate geo-referenced imagery for ingestion into Google Earth or other GIS tools, and natively supports integration of The Boeing Company's Agility SARlab radar imagery analysis platform for production of secondary radar data products. A COnDOR Payload Support Kit includes MATLAB™ tools for waveform generation, and a MATLAB data parser for integration of radar data into a customer's product solution.
RAPID TRANSITION FROM CONCEPT TO IN-FLIGHT IMAGING:
The COnDOR payload contains all radar electronics necessary to support single- or multi-channel SAR imaging. Weighing less than 50lbs, it is packaged in a commercial flight case for easy transport, with multiple mounting options for strap-down operation. All that is necessary for installation and operation are 12-32VDC power (300W for the standard L-band version), an Ethernet connection for command & control, a GPS antenna connection, and radar antenna installation (multiple options are available). Trident can assist in aircraft integration and initial flight check-out activities. Please contact Trident to discuss your particular mission requirements via email at RS@tridsys.com, or visit us on the Web at http://www.tridsys.com.
ABOUT TRIDENT:
Trident Systems is a veteran-owned small business that delivers innovative and affordable technology solutions for critical government and commercial needs. Founded in 1985, Trident continues to harness technology and provide leading-edge solutions to every Military Service, the Intelligence Community, and a broad spectrum of government and industry partners. Trident develops products in three primary focus areas: Integrated C4I systems, Radar and RF Systems, and Assured Collaboration Systems. Trident also provides an array of services from Complex Systems Engineering services for complex system development as well as Collaboration Services.