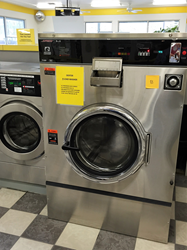 "I'm very pleased about how all of this has worked out", says Jouvenat
Roseburg, Oregon (PRWEB) May 26, 2016
New to the industry in 1998, when Jouvenat acquired his coin-op, Value Clean Laundromat, he reached out to Western State Design (formerly Western Cascade) for expert guidance in renovating the space and acquiring new laundry equipment. He first learned about Western State Design (WSD) when he joined the Coin Laundry Association (CLA). WSD, a leading equipment distributor in the coin-op and industrial laundry industry, has over 40 years of experience and expertise in design, development and equipping state-of-the-art laundry facilities.
Value Clean Laundromat was created out of the remnants of a 1970's era laundromat that existed as one of five commercial units in the property Jouvenat bought in 1998. After several years of planning and renovation, Value Clean Laundromat opened its doors on May 23, 2001.
Through the years, Jouvenat gradually increased Value Clean's laundry capacity, both by adding Dexter laundry machines for general use, as well as behind the counter when he established a drop-off laundry service. Nine years ago, he started acquiring larger machines, the first of which were three Dexter T-50x2 stack 50 lb. dryers which are still operating today with no maintenance issues. A year-and-a-half ago, after consulting with Jim Wright of WSD, he added a Dexter T-80 lb. Express OPL dryer behind the counter for drop off laundry service.
Last year, he attended the laundry industry's bi-annual trade show, the Clean Show, in Atlanta with the intention of acquiring two more 75 lb. washer extractors to complement the two machines already in operation in his coin-op. However, upon being informed that those particular machines were no longer being manufactured, he reached out to Wright who recommended that he purchase two Dexter T-1450 90 lb. Express machines instead.
The high capacity 90 lb. Dexter washers fit within his existing space and have been in operation since September. "We have received nothing but glowing reviews from our customers who love how their laundry comes out virtually dry, which means they spend less total time doing laundry", said Jouvenat.
Jouvenat is pleased with the new machines as well. He thinks they're impressive both esthetically and operationally. He likes the extra capacity because it means that the drop off laundry doesn't get held up in a queue for one of the 75 lb. machines. "I no longer have to worry about bottlenecks on the floor", he says. "Also, the machines' intuitive controls make them really easy for customers to use", he says.
Even though he has added capacity to his coin-op through the acquisition of large laundry machines, Jouvenat says "the 40 lb. machines remain the workhorses of my store". Having said that, he explains that his Total Turns on his new large equipment have increased from a year ago, while remaining constant on his smaller machines. "The result is that my revenue has actually increased, without any additional advertising or marketing", Jouvenat says. "I'm very pleased about how all of this has worked out", he says.
About Value Clean Laundromat
Value Clean Laundromat, located at 4850 NE Stephens St., Roseburg, Oregon is a full-service, fully-attended coin laundry. Store features include A/C, extended hours, comfortable seating, TVs, snack and drink vending machines, ATM, free WIFI, kids' play area and wash/dry/fold valet services.
About Western State Design
With over 40 years' experience as a premier, full-service distributor to the coin-op laundry industry, Western State Design has grown to become one of the largest coin laundry equipment distributors in the world. Western State Design is proud to be a Dexter Authorized Distributor and has been recognized as the No. 1 Dexter Distributor worldwide since 2009. Dexter Laundry, located in Fairfield, Iowa, is an employee owned leading manufacturer of commercial laundry equipment. All equipment is manufactured in Iowa. Visit WSD online at http://www.westernstatedesign.com or call toll free at 1-800-633-7153.