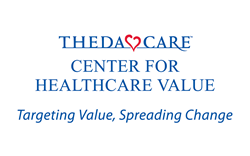 Appleton, Wis. (PRWEB) June 01, 2016
The ThedaCare Center for Healthcare Value recently hired Human Resources Director Peter Mariahazy, who will be responsible for human resources and technology for the Center.
"This is a new position for us, and we are so excited to have Peter take the lead," said Kim Barnas, president of the Center. "He is sure to be a key resource to the management team to ensure the Center uses best practices when it comes to employee benefits and HR matters."
Prior to joining the Center, Mariahazy oversaw technology, human resources and operations management at Modern Business Machines (MBM), a Xerox Company. In his tenure at MBM, he implemented Enterprise Resource Planning software, fostered an evolution of employee benefits, and maintained compliance with HR regulations.
"The Center is a leader in transforming the healthcare industry. I'm thrilled to be a part of that mission, and look forward to further positioning the Center as an employer of choice," said Mariahazy.
Mariahazy received his bachelor's degree in Organizational Administration from the University of Wisconsin-Oshkosh. He also is an avid volunteer and holds leadership positions with multiple non-profit organizations locally and nationwide.
THEDACARE CENTER FOR HEALTHCARE VALUE
The ThedaCare Center for Healthcare Value is an education institute that believes we must have three essential elements for sustainable change in healthcare: Delivery of care designed around the patient; payment and incentives based upon value and outcomes; and transparency of performance (quality and cost) throughout the healthcare system. Founded in 2008 and headquartered in Appleton, Wisconsin, we are a not for profit with a big mission to help change the healthcare industry. Learn more at: createvalue.org.