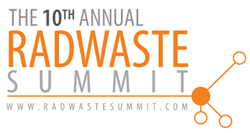 Following the success of the 2015 event, we are eager to welcome the advisory committee members to participate in the program and capitalize on the invaluable insight each member brings that will prove beneficial to our attendees
Rockville, MD (PRWEB) June 01, 2016
ExchangeMonitor Publications and Forums is proud to announce the involvement of valuable industry executives and experts to participate in an advisory committee for the 2016 RadWaste Summit, September 7-9, 2016 in Summerlin, NV. The RadWaste Summit features discussions on the full range of issues facing the radioactive waste marketplace, including the overall Department of Energy waste mission, changes in spent fuel and nuclear waste policy, Nuclear Regulatory Commission low-level waste regulations and updates on the U.S. Army Corps of Engineers cleanup at FUSRAP sites.
The advisory board committee consists of:

Llewellyn King, Founder of The Energy Daily and Executive Producer and Host of "White House Chronicle"
Rob Smart, Program Advisor, formerly with Areva and Senior Fellow with the NIC
Nancy Berlin, Program Manager, ExchangeMonitor Publications & Forums
David Blee, Executive Director, U.S. Nuclear Infrastructure Council (US NIC)
Larry Camper, USNRC Retired
Eric Knox, Nuclear & Environment, AECOM
John Greeves, Consultant, JTG Consulting
Renee Echols, Senior Vice President, Business Development & Marketing, Permafix
Tim Frazier, President, TA Frazier and Associates
Eugene Gleason, President and Managing Director, Nuclear Management Associates LLC
Anne White, President, Wolverine Nuclear Services
David Victor, Director Laboratory on International Law and Regulation, University of California San Diego
Chris Schneidmiller, Editor-in-Chief, ExchangeMonitor Publications & Forums
"It's hard for me to tell you just how excited I am to help announce the names of the first members of the RadWaste Summit's advisory committee, said Llewellyn King, Founder of The Energy Daily and Executive Producer and Host of "White House Chronicle." "It's the deep commitment to the needs of the industry that has made ExchangeMonitor Forums so vital: a place where policy melds with technology, where information helps business decisions. The advisory committee will help to push this critical mission forward," King said.
"Following the success of the 2015 event, we are eager to welcome the advisory committee members to participate in the program and capitalize on the invaluable insight each member brings that will prove beneficial to our attendees," says Kristy Keller, Director of Conferences & Events, ExchangeMonitor Forums. "Over 350 key officials from government and industry will converge in Summerlin, NV, September 7-9, 2016 and we look forward to continuing our commitment to excellence with the addition of key advisory committee guidance."
At the 2016 RadWaste Summit, top-level speakers from both government and industry will discuss topics such as global spent fuel management initiatives, DOE approaches for nuclear waste management, consent-based approaches, storage and transportation, high level and low level waste initiatives, updates on U.S. Army Corps of Engineers sites, defense waste opportunities, and more.
Registration is open for the 2016 RadWaste Summit. Plan to join now to receive important insight into the inner workings of the radwaste industry.
To learn more and to register, visit http://www.radwastesummit.com.
About ExchangeMonitor, a division of Access Intelligence, LLC
ExchangeMonitor Publications & Forums, founded by the late Edward Helminski, was acquired by Access Intelligence, LLC in March 2015. ExchangeMonitor publishes professional newsletters and creates, manages and sponsors forums, colloquiums and workshops to facilitate an exchange of views and information among government officials, private industry executives, non-governmental organizations and other entities on critical national and international programs and policies.
About Access Intelligence, LLC
Access Intelligence, LLC, a portfolio company of Veronis Suhler Stevenson, is a b-to-b media and information company headquartered in Rockville, Md., serving the media, PR, cable, healthcare management, defense, chemical engineering, satellite and aviation markets. Leading brands include Weapons Complex Monitor, RadWaste Monitor, Nuclear Security and Deterrence Monitor, GHG Reduction Technologies, Defense Daily, Cynopsis, Cablefax, PR News, FOLIO:, AdMonsters, Event Marketer, LeadsCon, Chief Marketer, Media Industry Newsletter, Defense Daily Network, Aviation Today, Studio Daily, POWER and Via Satellite. Market-leading shows include The Radwaste Summit, The Decisionmakers' Forum, The Nuclear Deterrence Summit, LeadsCon, CCUS Conference, The FOLIO: Show, Event Marketer Summit, SATELLITE 2016, OR Manager, LDC Trade Forums, Clean Gulf, ELECTRIC POWER, Energy Ocean and Offshore Communications. Access Intelligence also produces executive conferences for the healthcare, PR, media, cable, energy and defense markets.