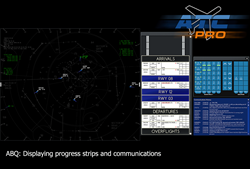 Atlanta, GA (PRWEB) May 31, 2016
Flight One Software Inc, in partnership with Flag Mountain Software and Aerius Designs, announced the immediate availability of ATCPro STARS Terminal Controller Simulation. ATCPro was deployed to allow enthusiasts the ability to operate in the ATC TRACON environment, where aircraft are monitored on radar departing from and arriving into terminal control airspace. This standalone simulation is designed to work on the PC-Windows platform.
Speak Commands Just Like a Controller
A revolutionary speech recognition engine is incorporated that recognizes spoken commands from the player. This engine requires no training out of the box even with accented speech! Pilots and virtual controllers also speak to you in a selection of natural and clear voices using proper aviation phraseology. No additional voices must be purchased or customized to make the simulation more realistic.
"ATCPro uses technology not seen anywhere else to bring the most amazing TRACON simulator to the market," said Tom Murdock, project manager, Flag Mountain Software. "Our development team has worked for over 3 years perfecting this simulation, bringing real-world ATC to the masses."
Not Just a Game
ATCPro challenges the user to experience the thrill of being a professional controller. The simulated equipment and systems are hyper-realistic. The radar scope and video-map overlays are true to their real-world counterpart. The aircraft flights are from current schedules. A microphone headset must be used to speak commands just like real controllers (optional keyboard input supported).
Virtual controllers side by side with the player
Never before, in an air traffic control simulation, has there been virtual controllers working alongside the player in an intelligent and non-scripted fashion. These controllers interact with you and the virtual pilots realistically, utilizing actual FAA procedures. You can even set the simulation to be controlled entirely by virtual controllers and watch the action for as long as you desire. You can learn how the pros do it by observing, then plug in to do it yourself. This allows the simulator to also be highly educational for those interested in how real-world air traffic control works.
Realistic STARS scope
The radar display system is modeled after the actual STARS systems used by professional FAA TRACON controllers. The radar display incorporates the video maps used by the actual air traffic control facility and weather conditions from a live feed or by user configuration.
Facilities made up of realistic sectors
A variety of large and small terminal control facilities from around the US are included in the initial product release; each one is comprised of multiple individual sectors with actual control boundaries, frequencies, and video maps used by real controllers. Complex facilities, such as Atlanta, can include well over a dozen controller sectors that may be worked individually or combined for an extreme challenge. In this initial product release six facilities are included: Albuquerque, Atlanta, Miami, Seattle, Kansas City and Knoxville. Many future facilities are planned.
Availibility
Flight One Software is the official distribution partner for ATC Pro. The product is available through the Flight1.com website at http://www.flight1.com/products.asp?product=atcpro. ATC Pro is also scheduled to be available on other popular simulation websites shortly.
About Flight One Software
Founded in 1998, Flight One Software is a worldwide leader in the PC aviation marketplace. Flight One develops advanced simulations, as well as teams with companies such as Flag Mountain and Aerius Designs to bring to the public unique aviation-based simulations.
For more product details:
http://www.atcprosim.com
Visit the ATC Pro video presentation:
https://www.youtube.com/watch?v=1HV5e1tKwZ4
For more information, press only:
Email: media(at)flight1(dot)com