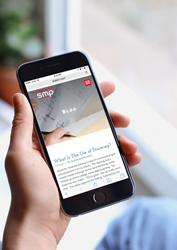 Calypso met our goals with a fresh approach that we could not have imagined at the start of the process. They wowed us.
(PRWEB) June 01, 2016
Calypso Communications, an integrated creative and PR agency, designed and developed the new website for SMP Architecture, a firm that designs buildings that become integral, living parts of New Hampshire's evolving communities.
"Calypso was definitely on our wavelength—they 'got' us," said Eric Palson, Principal at SMP. "Just as SMP's mission is to understand our clients' needs and then find creative ways to fulfill them, Calypso met our goals with a fresh approach that we could not have imagined at the start of the process. They wowed us."
Through engaging and real visuals, accessible messaging, and user focus, the new website highlights the firm's work and maps out its unique process to drive broad client engagement, innovative design, and transparent communications.
"This visually compelling website tells the story of the firm and its work," said Mike Teixeira, Calypso's senior vice president of creative. "SMP architects believe in inspiring their clients to visualize where a project can go, and then they help them inspire the community and other stakeholders to realize the project's lasting benefits. We wanted the site to be a reflection of that same philosophy – to empower site visitors to see the possibilities of working with this company and how their project ultimately will be better for it."
Calypso's photographers captured images that promoted SMP's brand vision and supported the website strategy.
About Calypso Communications
Based in Portsmouth, N.H., Calypso Communications is a premier, award-winning strategic marketing, corporate communications, and business development consultancy. Highly sought after for its seasoned insight and perspective, Calypso effectively engages stakeholders crucial to driving business and value for clients in the energy, environmental, healthcare, and technology industries. For more information, visit http://www.calypsocom.com.
About SMP Architecture
Founded as Sheerr & McCrystal, SMP Architecture has designed unique, beautiful, and sustainable structures for New Hampshire's businesses, municipalities, schools, and residents in its 30+ year history. SMP garners national, regional, and local awards for outstanding projects and high-quality design with a collaborative team approach. Visit http://www.sheerr.com.
###
For More Information Contact:
Tiffany Nelson
Calypso Communications
tnelson(at)calypsocom(dot)com
603.431.0816