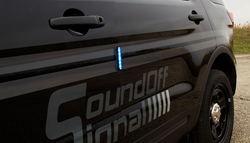 "Consistent with our philosophy to create Smartly Designed products, SoundOff Signal collaborated with Dow Corning to create Clear Duty optical technology," said Keith McRobert, Director of Marketing at SoundOff Signal.
Hudsonville, MI (PRWEB) May 31, 2016
SoundOff Signal, a global leader in lighting and electronic warning solutions for the law enforcement, school bus and amber markets, is bringing first generation material technology to the market through the introduction of mPOWER™ Fascia, the first extremely compact, tri-color line of lighting on the market.
"Consistent with our philosophy to create Smartly Designed products, SoundOff Signal collaborated with Dow Corning, a leader in silicones, silicon-based technology and innovation based in Farmington, Michigan, to create a first generation optical design called ClearDuty™ technology," says Keith McRobert, Director of Marketing for SoundOff Signal. "In addition to establishing a powerful, head-on and off-angle illumination for the Fascia light, ClearDuty withstands punishing use and the duration of brutal weather conditions."
ClearDuty technology provides a molded one-piece housing and optic design that delivers a number of sustaining advantages over conventional polycarbonate optical light lenses:

A small footprint with maximized candela output
Greater resistance to gravel pitting, scratching or cracking
Improved sealing to prevent water from entering the light
Higher UV and thermal stability to prevent lens yellowing over time
Fascia's next generation design and variety of mounting options allow the light to be placed nearly anywhere on a police vehicle. This capability provides 360-degree, multi-zone coverage, equipping law enforcement personnel with the safety and confidence they deserve on the job. Fascia's unobtrusive design in an extremely small footprint visually blends into the design of today's police vehicles.
SoundOff Signal partnered with Midland, Michigan based Specialty Manufacturing Inc., a contract manufacturer of silicone molded products, to supply the ClearDuty technology for the product's final assembly.
"We are pleased to announce this new technology that will ultimately safeguard police officers who serve and protect us on a daily basis," says Mark Litke, President and CEO of SoundOff Signal. "We are also delighted to have built new business relationships with other Michigan companies through the design and development journey. Having a Michigan based product is something we are very proud of."
About SoundOff Signal
SoundOff Signal provides safety lighting and electronics solutions that serve the diverse needs of the law enforcement, school bus and amber markets throughout the United States and 40 countries.
SoundOff Signal is an ESOP, employee owned company. Employees utilize technology, processes and a set of values as a foundation for their work:
Building Trust
A Passion for Outstanding Customer Service
A Desire for Excellence
An Encouraged Entrepreneurial Spirit
This winning formula, coupled with a passion to serve, is what propels SoundOff Signal to deliver solutions that create safer, more productive working environments to its markets. This formula has also provided the company with nearly 25 years of uninterrupted sales growth.