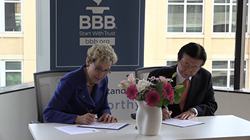 Arlington, VA (PRWEB) May 26, 2016
The Council of Better Business Bureaus (CBBB) and the Korea Consumer Agency (KCA) today signed an agreement to offer cross-border dispute resolution for Korean consumers who purchase goods and services from companies in North America, and for consumers in the U.S., Canada and Mexico who purchase from companies in the Republic of Korea.
The Memorandum of Understanding is "to establish a foundation for bilateral cooperation between the Parties in jointly resolving consumer disputes related to cross-border transactions, such as overseas travel and electronic commerce." It was signed at the CBBB offices outside Washington D.C. by Han Kyeon-pyo, president of KCA, and Mary E. Power, president and CEO of CBBB.
"Cross-border transactions between Korea and the U.S. will keep increasing," said Han. "Accordingly the KCA will cooperate with BBB closely to prevent and resolve potential consumer complaints. The MoU is the first step of this cooperation, and I hope BBB and the KCA can contribute to a better consumer life through this cooperation."
"Commerce no longer has borders, and this agreement will help make sure that difficulties don't stop at the border, either," said Power. "BBB has been handling disputes between consumers and businesses for more than a century, and we are delighted to extend our services to the citizens of the Republic of Korea. We also welcome the opportunity to work cooperatively with businesses and entrepreneurs in Korea. There is no better tool for building trust in the marketplace than giving consumers and businesses a neutral third-party they can turn to when they need help resolving a problem."
The new cross-border complaint handling system will refer complaints from consumers in one location against businesses in the other. The complaints must concern marketplace transactions or advertising, and may involve purchases that took place online, by mail, or in person.
CBBB has a similar dispute resolution agreement in place with Japan, while KCA has established agreements with Japan and Vietnam, and is anticipating similar agreements with China, ASEAN (Association of Southeast Asian Nations) and the European Union.
BBB handles more than 870,000 complaints a year from consumers who have a marketplace dispute with a business based in North America. KCA offers consumer redress service to citizens, as well as oversea consumers, who have a problem with a Korean company. It handled more than 816,000 complaints last year, including nearly 9,000 cross-border disputes.
-30-
ABOUT KCA:
The KCA is a government organization established July 1987 based on the Consumer Protection Act (as of Mar. 28, the Framework Act on Consumer). Its founding principle is to protect consumer rights and interests, to promote a rational consumption life and to contribute to the sound development of the nation's economy. Its functions are: provide consumer counseling and redress; conduct test/inspection and investigation on standards, quality and safety of products and services; research and propose consumer protection policies and laws; collect and provide information on rationalization and safety of consumption life; provide education/training on and promote consumer protection; conduct comprehensive researches and studies to enhance national life; investigate and deliberate consumer protection laws & regulations requested by central and local governments; and handle other consumer-related matters.
ABOUT CBBB:
For more than 100 years, Better Business Bureau has been helping people find businesses, brands and charities they can trust. In 2015, people turned to BBB more than 172 million times for BBB Business Reviews on more than 5.3 million businesses and Charity Reports on 11,000 charities, all available for free at bbb.org. The Council of Better Business Bureaus is the umbrella organization for the local, independent BBBs in the United States, Canada and Mexico, as well as home to its national and international programs on dispute resolution, advertising review, and industry self-regulation.
MEDIA CONTACTS:
For more information, journalists should contact Katherine Hutt (703-247-9345 or khutt(at)council(dot)bbb(dot)org) or Sookyung Park (+82-43-880-5652 or skypark(at)kca(dot)go(dot)kr).