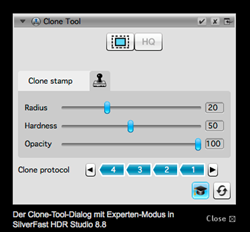 "This just completes the already powerful dust and scratch removal arsenal of SilverFast."
Sarasota, Florida (PRWEB) May 27, 2016
The new imaging software SilverFast HDR Studio brings all aspects of digital imaging into focus
LaserSoft Imaging - the new SilverFast HDR Studio 8.8 has been developed for users who are searching for a single image processing software that incorporates all important color reproduction and color management tools, without overwhelming them with filters and effects. Maximum quality is guaranteed through the combination of the RAW workflow and the interaction of the individual dust and scratch removal tools.
"Many users have realized that there are many competitive products to Photoshop. The important part is the concept, which stands behind the individual software solutions. Our goal has been the same for decades: to reproduce the original appearance of the image as close as possible," says Mr. Karl-Heinz Zahorsky, CEO, President and founder of LaserSoft Imaging with regard to SilverFast HDR Studio.
The concept of SilverFast HDR Studio is such that the original file will always remain untouched. SilverFast, therefore, collects all changes made to the image, and places these in the correct order with respect to the entire workflow. When the image is processed, a new image is then generated, which takes into account all necessary corrections. The original RAW file is thus left untouched. Different from other image editing software, the user does not have to worry about what correction to make at which stage. In order to obtain the highest possible quality, SilverFast always works with all the available data.
The latest SilverFast HDR Studio version now incorporates a new Clone Tool, and therefore provides the user with all the necessary tools for complete dust and scratch removal. Combined with the hardware-based iSRD and the software based SRDx, the clone tool is able to remove all defects—such as scratches, dust, fingerprints or even small physical cuts— from the original image.
LaserSoft Imaging also developed SilverFast image scanning software over 20 years ago. Photographers around the world continue to consider SilverFast as the top scanner software today.
More information can be found at http://www.silverfast.com
« SilverFast - Pioneer & Expert in Digital Imaging »
Information about LaserSoft Imaging
LaserSoft Imaging was founded by physicist Karl-Heinz Zahorsky in 1986 in Kiel Germany. Karl-Heinz Zahorsky is also the inventor of the patented SilverFast Multi-Exposure, as well as the auto IT8 calibration. LaserSoft Imaging is renowned worldwide as a pioneer in the field of scanner and digital imaging software. The SilverFast range of products include software for scanners, digital cameras, printers and for HDR imaging, as well as several specialized solutions. LaserSoft Imaging produces high quality targets for IT8 color calibration.
Contact:
LaserSoft Imaging AG - Headquarters
Philipp Haarlaender
Luisenweg 6 - 8
D-24105 Kiel
Tel: + 49 (0) 431 560 09 - 0
Fax: + 49 (0) 431 560 09 - 96
Web: SilverFast.com
Email: philipp.haarlaender(at)silverfast.com
LaserSoft Imaging, Inc. - US Operations
Darren Vena
7441 N. Tamiami Trail
Sarasota, FL 34243, USA
Phone + 1 941-351-9400
Fax + 1 941-351-9402
Web: SilverFast.com
Email: darren(at)silverfast(dot)com