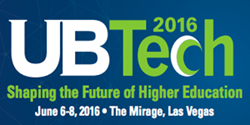 We have a continuing goal of creating effective awareness strategies to inform students of the technological resources on campus.
Scottsdale, AZ (PRWEB) June 01, 2016
rSmart®, a leader in delivering innovative solutions for higher education, will attend the UBTech 2016 Annual Conference, June 6-8 in Las Vegas. The UBTech conference, held at The Mirage hotel, attracts higher ed professionals and offers sessions on innovative solutions and best practices in technology and leadership.
OneCampus, a service directory portal, is a lightweight, cloud-based solution that enables students, faculty, and staff to find campus services through an intuitive and mobile-friendly Google-like search. OneCampus was designed to help schools move away from heavy, expensive, locally-managed software—including traditional portals. rSmart and Indiana University (IU) partnered to develop the OneCampus solution (called One.IU on the IU campus) which is now used by more than 100,000 users at IU. OneCampus is also used by many other colleges across the country including Notre Dame, Virginia Tech, University of Hawaii and Purdue University.
Ryan Vallow, Business Analyst at IU, and Lindsay Smith, Client Services Director for rSmart, will present at the UBTech Conference on best practices for a successful adoption of IT services such as OneCampus. Titled "Strategies for Driving Technology Adoption on Campus with Student Involvement," the session will highlight how IU is utilizing student ambassadors to promote campus IT resources, technology, and tools. All UBTech attendees are invited to attend the session, scheduled for Tuesday, 6/7 in the Trinidad A room at 4:20 pm PT.
"I am excited to have the opportunity to share how Indiana University is driving the adoption of new services by engaging our students as ambassadors," said Vallow. "We have a continuing goal of creating effective awareness strategies to inform students of the technological resources on campus. Our presentation at the UBTech conference will highlight how this outreach program contributed to the successful use of One.IU."
"rSmart and IU have long partnered to develop exceptional programs for higher education and we are delighted to join forces at the UBTech conference to showcase this partnership and specifically discuss the student engagement program that has uniquely supported technology adoptions at IU," said Smith.
Visit UBTech booth #511 to learn more about OneCampus, talk with customers, see a demo, and register to win an Apple Watch. To pre-schedule a personalized tour of OneCampus at any time, visit https://www.rsmart.com/schedule-demo/ or call 866.874.4338.
About rSmart
For more than 15 years, rSmart has been changing the way higher ed thinks about technology by delivering solutions that reduce costs, improve productivity, and simplify the user experience. The OneCampus product is a lightweight, mobile-friendly technology that makes finding campus services faster and easier than ever. rSmart is privately held and headquartered in Scottsdale, AZ. Learn more at https://www.rsmart.com.