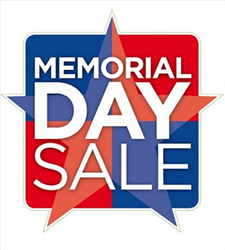 Everybody at EyeCareUniverse.com would like to wish everyone a safe and Happy Memorial Day weekend.
Elmsford, NY (PRWEB) May 27, 2016
With over 17 years in the business selling eye care products ranging from contact lenses, contact lens removers and contact lens solution, to designer sunglasses, designer prescription frames and eye vitamins, the New York based Eye Care Associates has been distributing these products through its ever growing website EyeCareUniverse.com. Since EyeCareUniverse.com is an approved distributor of Acuvue and Ray-Ban products, they posses the most competitive prices on the internet.
Memorial Day Weekend is one of our countries most beloved holidays, known for its BBQs, outdoor fun and remembrance for those who have fallen in the line of duty. Americans cherish this 3-day weekend as it is a chance to head over to the family's house, hangout and enjoy the beautiful May weather. During this special occasion, Eyecare Universe is having a Memorial Day Sale beginning today Friday May 27th 2016 through Monday May 30th.
Being a uniquely American holiday, the sale will include some uniquely American products that the public all knows and loves, such as Ray-Ban Aviators RB3025, Wayfarers RB2140, New Wayfarers RB2132, the new Gatsby line RB4256 and many others. The sale will discount 20%-50% off some of their most popular models.
Ray-Bans have been a stable of American eyewear since they were founded in 1937. They are known for their Aviator and Wayfarer models that were made famous by classic movies like Top Gun and Risky Business, which gave a new breath to the company's existing line up. They offer a wide range of unique models that put a new twist on classic frames and have a pair of sunglasses for everyone in the family.
Memorial Day marks the unofficial start of summer and the beach season and is the perfect time to buy a new pair of shades for the upcoming summer months and this attractive offer will be tough to beat anywhere online. No one wants to be the person at the beach still wearing those beat up sunglasses they have had for 5 years.
EyeCareUniverse.com has one of the widest selections of different sunglasses on the web so customers will be sure to find what it is they are looking for. This offer ends Monday, May 30th at 11:59PM Eastern Standard Time, so people interested in buying a new pair of sunglasses should not hesitate to check out their inventory.
Everybody at EyeCareUniverse.com would like to wish everyone a safe and Happy Memorial Day weekend.
Eyecareuniverse.com is headquartered in Westchester County, NY, with offices in New York City and Mahwah NJ. They have 17 years in the online retail business selling contact lenses, contact lens removers, designer prescription frames, designer sunglasses and vitamins amongst many other eye care products.