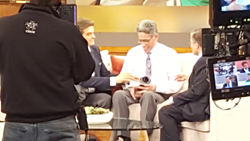 selling 10 million units in the first year alone!
Columbus, Ohio (PRWEB) June 03, 2016
Ted "Golden Voice" Williams, a former homeless veteran, has announced today that he has agreed to license his brand with (OTCQB: SONT) Seen On Screen, TV, Inc (http://www.sont.tv/) and seek an FDA approval of an amazing new medical device, the "Golden Fit Watch."
"The 'Golden Fit Watch' will be helpful to others like me, a former homeless veteran, gain access vital medical information that can help prevent heart attacks and other medical conditions, which will also save taxpayers money," Williams said.
Williams' manager, Scott Anthony, described the device, as a wearable monitor, like the Fitbit, but with functions more aligned with measuring heart rate and blood pressure. A working prototype is currently in use.
The American Heart Association states on their website that all human beings have blood pressure, and 1 in 3 Americans have high blood pressure. "That translates into an enormous market for the 'Golden Fit Watch,'" Anthony said.
When Ted "Golden Voice" Williams recently appeared on the "Dr. Oz" show, his blood pressure had risen from a previous show segment, so he gave Williams a blood pressure monitor. This television moment led to the inspiration and creation of the new device. (Disclaimer: Dr. Oz did not create or endorse this product)
Tony Reynolds, founder of A KickIn Crowd (http://www.akickincrowd.com) had been watching that segment and created the idea for the "Golden Fit Watch." He arranged a meeting between Williams and SONT executives.
Williams signed an exclusive licensing deal with (OTCQB: SONT) Seen on Screen TV, Inc, (http://www.sont.tv/ ) for marketing and distribution. SONT will join the team in getting Medicare "Premarket Notification" relating to section 510(k) of the Food and Drug Administration.
"We anticipate a 510(k) clearance by the FDA by late August 2016," George Jarjour, COO of SONT stated.
According to a new market research report "Wearable Technology Market by Product (Wristwear, Eyewear, Footwear, Neckwear, Bodywear, and Others), Application (Consumer Electronics, Healthcare, Enterprise & Industrial, and Others), Type (Smart Textile, Non-Textile), & Geography - Global Forecast to 2020", The overall market for wearable technology is expected to reach 31.27 Billion by 2020, at a CAGR of 17.8% between 2015 and 2020.
With the success of companies like Fitbit, Apple, and their Apple Watch, and Garmin, who are significant players in the wearable market, SONT believes their chances are great for immediate revenues.
"I will expect selling 10 million units in the first year alone," Anthony said. "And with the FDA clearance and Medicare/Medicaid availability, the sales will increase even more."
CCS Insight predicted 84 million wearables were sold in 2015. Fitbit was selling at approximately 4.4 million units per quarter. Apple announced they sold 12 million!
The team also announced their intention to comply with the Securities and Exchange Commission (SEC) by making Fair Disclosure, Regulation FD. Other instances of the rule being applied, were in retrospect such as when Netflix CEO Reed Hastings made announcements on his personal Facebook page. That was qualified as acceptable use by the SEC in retrospect.
According to an SEC press release, "The Securities and Exchange Commission today issued a report that makes clear that companies can use social media outlets like Facebook and Twitter to announce key information in compliance with Regulation Fair Disclosure (Regulation FD) so long as investors have been alerted about which social media will be used to disseminate such information."
By making this announcement now, we are actively alerting investors that the social media accounts of Ted "Golden Voice" Williams, Seen On Screen TV, Inc, Scott Anthony, The Golden Voice Show, Tony Reynolds, and Reynolds Sports and Entertainment on Twitter, and corresponding accounts on Facebook Inc, will be used to disseminate information regarding our participation with Seen On Screen TV, Inc. (OTCQB: SONT)
For more information, please visit : http://www.sont.tv/
ABOUT Seen On Screen TV, Inc.
Seen on Screen TV, Inc. is a global retailer selling products through its range of websites and direct response television advertising. Headquartered in Everett, Washington, it markets direct to the public its own branded products as well as other specialty products using television commercials and infomercials to drive direct response telephone calls to its call centers and also driving traffic to its websites to create corporate awareness as well as online sales. For more information about the company please visit sont.tv/sec-filings
ABOUT Mr. Golden Voice, Ted Williams
American radio host and voice-over artist Williams gained widespread media attention when in January, 2011, an interview made during a period when he was homeless went viral after being posted to YouTube in early January 2011. Williams subsequently received numerous job offers. He co-authored "A Golden Voice: How Faith, Hard Work, and Humility Brought Me from the Streets to Salvation" with Bret Witter. He is the founder of the Ted Williams Project, a non-profit organization serving homeless shelters.
Safe Harbor for Forward-Looking Statements
This press release may contain forward-looking information. There are many factors that could cause the Company's expectations and beliefs about its operations, its services and service offerings, its results to fail to materialize. All forward-looking statements in this press release are based on information available to us as of the date hereof. Management assumes no obligation to update these forward-looking statements. Factors that could cause actual results to differ materially from those contemplated in any forward-looking statements made by us herein are discussed in filings we make with the United States Securities and Exchange Commission (SEC), including our Annual Report on Form 10-K and also reports on Form 10-Q and Form 8-K and available on our website: http://ir.seenonscreentv.com/