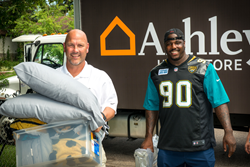 We truly believe that great sleep changes lives and today was a total community effort to change the lives of these wonderful boys.
Jacksonville, Florida (PRWEB) May 27, 2016
Jacksonville Jaguars Head Coach Gus Bradley and Defensive Lineman Malik Jackson answered the call to make Ashley HomeStores' Hope to Dream bed donation even more impactful for five young brothers in need of a healthy place to sleep. Ashley HomeStore provided all five brothers (ages 5 thru 12) a complete sleep set of their own so they no longer needed to share one bed, and the Jaguars joined in on the surprise delivery.
"We truly believe that great sleep changes lives," said Whitney Thomas, Hope to Dream Market Champion for Ashley HomeStore, "and today was a total community effort to change the lives of these wonderful boys."
A teacher from the boys' school nominated them with support from the principal. When Ashley HomeStore received the nomination, they immediately recognized the opportunity to engage their partners at the Jacksonville Jaguars and provide an even more memorable experience to the family.
"It's unbelievable; you talk about a touching moment when you can come in and impact a home like this," said Jaguars Head Coach Gus Bradley standing alongside Defensive Lineman Malik Jackson. "We value the opportunity to give back and know that this makes us stronger as individuals and as a team."
In the five-year partnership with Ashley HomeStore, Bradley, along with his wife, Michaela, and their children, have participated in multiple Hope to Dream deliveries, as well as the annual Stadium Sleepover™ at EverBank Field. Jaguars players are also regulars on Hope to Dream deliveries.
"We're here to do the most good we can and serve our community at the highest level possible," said Ashley HomeStore-Jacksonville CEO Howard Fineman. "These five boys, and the other over 30,000 children around the country that are sleeping in beds gifted to them through Ashley HomeStore's Hope to Dream program, are the reason we push ourselves every day to be servant leaders and the absolute best company and community partner we can be."
Locally, Ashley HomeStores have been involved in improving the lives of over 20,000 First Coast kids in need as a result of their various charitable efforts. "This is home. Our Ashley HomeStore team is proud to give back here at home, and is very appreciative of the support from our customers and partners here in Northeast Florida and Southeast Georgia," said Fineman.
Ashley HomeStore is the #1 furniture and mattress retailer in America and the #1 selling furniture store brand in the World. Locally, Ashley HomeStores has four convenient locations (St. Johns Town Center, River City Marketplace, Orange Park @ I-295, and Glynn Isles Market (Brunswick GA)). The retailer is an exclusive provider of furniture from Ashley Furniture Industries, Inc. (Ashley), the largest furniture manufacturer in North America. For more information on Ashley Furniture HomeStore and its products, visit http://www.AshleyHomeStore.com.
If you would like further information, photography/video, or to set up on or off-camera interviews please contact Tori Benjamin at tbenjamin(at)ashleyjax(dot)com or at 904-217-7367.