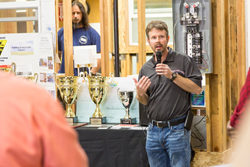 We are impressed with the hands-on approach of the Sierra College solar and construction program.
Rocklin, CA (PRWEB) May 28, 2016
Sierra College Construction & Energy Technology (CET) held an open house on Wednesday, April 27 and several employers announced at the event that construction business in Sacramento is booming and they are interested in hiring students. The hands-on CET program gives students many opportunities to network with businesses and visit construction sites to prepare them to find highly-paid employment.
Zach Harris, US Service Center Manager, SolarEdge announced that his company has already hired students from the Sierra College Construction and Energy Technology program this year. SolarEdge is the leader in US residential inverter sales and produces an intelligent inverter solution for solar photovoltaic systems.
"A number of Sierra College students are working in our call center in Grass Valley," said Harris. "They help field technicians and homeowners with trouble shooting. At the open house, I informed students that SolarEdge has several other local openings in sales, field support and call center support for those with a background in solar photovoltaic (PV) systems."
Mojdeh Emdadian, Employee Career Development Manager, Villara™, also announced employment openings at the open house. "Villara offers a wide range of residential and commercial building services, from heating and cooling to plumbing, home automation and solar installations, and we are hiring," said Emdadian. "Several students gave me their resumes at the open house. We are impressed with the hands-on approach of the Sierra College solar and construction program. Our company offers four weeks of one-on-one training and on-going mentorship; this would be a great way for students to start their careers."
In addition to the open house, the Sierra College CET invites industry speakers to come into the classroom to describe their work, share industry trends and provide insights on the hiring process. Barbie Davis, CTE faculty member, invited Jerry Dennis, Regional Sales Manager, Lumber and Trusses, Homewood Lumber in Loomis CA to speak to her class recently. "The goal of my presentation was to make the students more familiar with estimating," said Dennis. "I also reviewed 'construction takeoff.' This is the method used to review plans and create a list of materials for a project."
Homewood Lumber is a leading producer and supplier of high quality building materials with a lumber yard, truss manufacturing facility as well as Door, Windows, Cabinetry, and Moldings divisions serving commercial and residential builders in Sacramento, the San Francisco Bay Area and throughout Northern California.
According to Dennis, the students were interested in the source of the lumber. "A lot of California's timber is harvested in the northern part of the state," said Dennis. "When lumber is sourced near the construction site, the project may earn points toward Leadership in Energy & Environmental Design (LEED) Certification." Green building practices are emphasized in the Sierra College Construction and Energy Technology program.
Davis explained that students also go on field trips to job sites to help them consider career options. "My students recently visited the City of Rocklin Building Inspection Department," said Davis.
"I want our students to take pride in being in the trades and become aware of the construction industry's impact," said Davis. "Who crawls under your house to install insulation to improve energy efficiency? Who builds roads to connect our communities? Who pulls the electrical wires in new hospitals? Sierra College CET graduates are successfully working in all areas of the construction field and bringing great value to our communities."
Employment opportunities in construction are expanding explained Dennis. "I told students that they need to be prepared to start in entry level positions, learn the ropes and work their way up," said Dennis. "There are fantastic career opportunities for those who have a positive attitude, are clean cut and have a good alarm clock."
Those who like working with their hands may be interested in coming to Sierra College to earn certificates or degrees in Residential Building Construction or Construction Management, or Photovoltaic Advanced Skills Certificates. Prospective students should apply now to Sierra College for fall semester. Learn more about classes, certification, degrees or CSU Transfer at: http://www.sierracollege.edu/solar and http://www.sierracollege.edu/construction.
About Sierra College
Sierra College serves 3200 square miles of Northern CA with campuses in Roseville, Rocklin, Grass Valley, and Truckee. With approximately 125 degree and certificate programs, Sierra College is ranked first in Northern California (Sacramento north) for transfers to four year Universities, offers career/technical training, and classes for upgrading job skills. Sierra graduates can be found in businesses and industries throughout the region. More information at http://www.sierracollege.edu