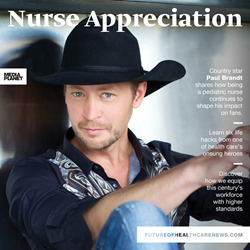 why this career has gone from being in a major recession to one of the hottest growing professions in any industry
New York, NY (PRWEB) May 27, 2016
An influential resource amongst nurses and professionals in the health care world, the annual campaign returns for a third time to shed lights on the variety of topics detailing why we appreciate nurses in so many different ways. From exclusive interviews, resources and inspirational stories, "Nurse Appreciation" tackles why this career has gone from being in a major recession to one of the hottest growing professions in any industry.
"Nurse Appreciation" is distributed within the weekend edition of USA TODAY, in highly targeted markets totaling approximately 450,000 copies and an estimated readership of 1.3 million. The insert will be supported by an original Mediaplanet digital campaign reaching a specialized, worldwide audience. It will be concurrently promoted by a number of industry blogs, social media sites and through partners such as Johnson & Johnson, Cigna, Jones & Bartlett Learning, George Washington University, Abilene Christian University, Indiana Wesleyan University and Simmons College.
Key features of this campaign include a cover story profiling country music star Paul Brandt, who had an illustrious career as a pediatric nurse before he dove into the music industry. "It is an incredible opportunity. You are constantly learning and pushing yourself," Brandt says of his past work with terminally ill children. "Nursing offers something for everyone, whether they prefer an emergency room or the one-on-one care of the elderly in the twilight years".
Also included in this campaign is Cigna's Chief Nursing Officer Mary Picerno about making an impact on the health and wellness of people around the world. "Making a difference in the lives of people who need help has been the driving force behind my entire career," says Picerno. Elsewhere, there are great pieces detailing the abundance of educational options open to today's nurses, how nurses are solving the stigma of incontinence and six great things a mentor taught a mentee during their rise in the nursing world.
About Mediaplanet
Mediaplanet is the leading independent publisher of content-marketing campaigns covering a variety of topics and industries. We turn consumer interest into action by providing readers with motivational editorial, pairing it with relevant advertisers and distributing it within top newspapers and online platforms around the world.