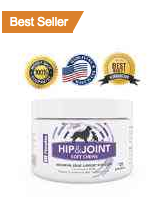 Nootie Breaks Into Top 100 of Amazons Pet Supplies
Delray Beach FL (PRWEB) May 27, 2016
Nootie, a supplier of quality health supplies, has announced its Nootie Glucosamine Chondroitin Dog Treats have made it into the top 100 of Amazon's Pet Supplies category. The product includes 120 soft chews supporting hip and joint pain relief. Suited for dogs with arthritis, hip dysplasia, and more, the chew helps to improve mobility with proven ingredients that work, with no imitation additives.
The pure glucosamine dog chew is not a cheap alternative. Many products offering the same benefits are diluted, cheaply made, and taste terrible. Their only produced and marketed to maximize profits. The product sold by Nootie promotes healthy joints, and has a lifetime warranty, ensuring dogs are happy and healthy, while staying protected from the pain and discomfort that plagued their comfort level before.
Like people, dogs get joint pain, arthritis, and other conditions. The treats help to avoid costly medicines and vet bills. Plus, one no longer has to see their pet suffer. Compounds in the product relieve the pain and repair joint tissues. They also protect against future damage. These are not benefits anyone sees in imitation products.
Nootie Glucosamine Chondroitin Dog Treats are shipped in a 5 x 4.9 x 3.6 inch package that weighs 1.4 pounds. From a small yorkie to a large German Shepard, the chew works the same. It is made in the USA and comes with a 100% money back guarantee.
The ingredients include glucosamine, sodium chondroitin sulfate, methylsulfonylmethane, and Hyaluronic Acid. Actual effective dosages vary based on size. Initial doses range from ½ chew daily for a 5-10 pound dog, in the first 4-6 weeks, to 3 chews per day for a canine over 60 pounds. Maintenance doses vary from ½ chew every other day to 1-2 per day. If the dog gets more than one per day, divide the chews between morning and evening doses.
To learn more about Nootie Glucosamine Chondroitin Dog Treats, which have become a highly popular product, go to Amazon.
About Nootie
Nootie is a supplier of quality natural pet products, grain free treats, and grooming items. From nutritious treats and supplements to natural shampoos and conditioners, it offers superior products that support a healthy, comfortable lifestyle for pets. Available on Amazon
http://www.amazon.com/Nootie-Glucosamine-Chondroitin-Supplement-Dysplasia/dp/B018R9UHU8