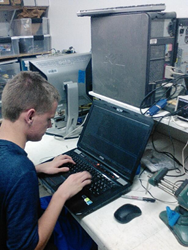 The classes, maker tools and summer camps at Hacker lab can spark children's interest in the latest technology and inspire innovation that will serve them in college and careers.
Rocklin CA (PRWEB) May 30, 2016
To inspire teenagers to become entrepreneurs and build skills in robotics and 3D design, Hacker Lab powered by Sierra College will offer several camps this summer, according to Eric Ullrich, Co-Founder, Hacker Lab. "There are awesome programs for kids at Hacker Lab this summer," said Ullrich. "Teens will connect with the passion of the makers, industry leaders and Sierra College faculty who are teaching our summer camps." Sign up now at Hacker Lab; camps start in early June.
Project Incubator
June 13 - 17 in Sacramento and June 20 - 24 in Rocklin $289
Project Incubator is a five-day program immersing high-school students in design thinking and entrepreneurship. Participants will be able to learn methodologies and entrepreneurial skills used by today's big-name companies, organizations and academia while honing their own skills as young innovators. They will work in groups to take a thought from simple idea to prototype, discovering their inner entrepreneur in the process. Instructors are George Claire, Lego Builder &| Design Thinker, The SHOP @ VSP Global and Sahja Claire.
Learn more about Project Incubator.
Vex Robotics Challenge
June 7-26, mentoring on Tuesdays and Thursdays (3-5 PM) with Robotics Challenges on Sundays (1-4 PM) $200/team in Rocklin
In this three-week challenge, participants ages 12 and over will be able to borrow a Vex IQ robotics kit, design and build a robot. Mentoring sessions will be offered on Tuesdays and Thursdays from 3-5 PM. No building experience or tools are needed. The software is suitable for beginners, but also enables industry standard C programming. Teams can work at their own pace at home and at Hacker Lab. Challengers can take what they learn at the first tournament and the classes to improve robots for the next two tournaments in the following weeks. Instructor Dave Parker is a part-time professor of Computer Science at Sierra College and has over 10 years of experience teaching, coaching, organizing and hosting youth robotics events.
Learn more about Vex Robotics Challenge.
3D Print, Design and Animate
Week-long classes starting June 20 through the week of August 1-5 (8AM - 5 PM) $200/week in Sacramento
Students, ages 12 to 17, can develop design skills this summer through a series of weekly camps starting June 20 at Hacker Lab in Sacramento. Topics include: 3D Model/3D printing, Animation for Game/Film, 2D Design/CAD, Basic Fabrication, Arduino/Electronics and Android App Development using Twine, Javascript and Java Studio.
Registration is required by May 22. Learn more about 3D Print, Design and Animate summer classes.
Families Join Hacker Lab
Families should consider joining the Hacker Lab community, according to Carol Pepper-Kittredge, Director, Center for Applied Competitive Technologies (CACT), Sierra College. "The classes, maker tools and summer camps can spark children's interest in the latest technology and inspire innovation that will serve them in college and careers," said Pepper-Kittredge. "Sierra College has partnered with Hacker Lab to give entrepreneurs access to technical and start-up resources, to prepare college students with real world skills and encourage families to share the joy and creativity of becoming makers." Learn more about Hacker Lab powered by Sierra College.
About Sierra College CACT
The Sierra College Center for Applied Competitive Technologies (CACT) is focused on Advanced Manufacturing and is funded through the Workforce and Economic Development program of the California Community College Chancellor's Office. Since 1992, the Sierra College CACT has provided customized training for organizations, manufacturers and technology companies and supported Science, Technology Engineering and Math programs through the Sierra STEM Collaborative to develop a future workforce. Additional information is available at http://www.sierracollegetraining.com or contact Carol Pepper-Kittredge at 916-660-7801 or cpepper-kittredge (at)sierracollege(dot)edu.
About Hacker Lab
Established in 2012 in Sacramento, Hacker Lab aims to educate folks and spark innovation with community driven resources. Offering co-working, maker space, courses, meet-ups and events, Hacker Lab believes that technology can change the world and the starting point is education. Hacker Lab has locations in Sacramento and Rocklin. Learn more at the Hacker Lab website.
About Sierra College
Sierra College serves 3200 square miles of Northern CA with campuses in Roseville, Rocklin, Grass Valley, and Truckee. With approximately 125 degree and certificate programs, Sierra College is ranked first in Northern California (Sacramento north) for transfers to four year Universities, offers career/technical training, and classes for upgrading job skills. Sierra graduates can be found in businesses and industries throughout the region. Get more information about Sierra College.