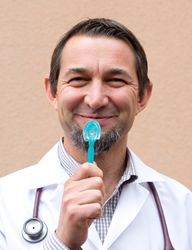 ClearPop Rapid Earache Relief, an innovation for children's ear pain, will be available to physicians via E3 Diagnostics.
Walnut Creek, CA (PRWEB) June 03, 2016
Try This First, makers of ClearPop™ rapid earache relief treatment announced today a distribution agreement with e3 Diagnostics, offering availability to pediatricians and other healthcare providers through mye3shop.com. Partnership with e3 demonstrates ClearPop's value and the company's dedication to the clinicians' role in children's ear care by increasing visibility among providers and broadening access to this new category of earache treatment.
Studies on ear infections indicate antibiotics take more than a day to demonstrate effect, and 70% of children get better within 2-3 days. The American Academy of Pediatrics (AAP) has therefore established guidelines which recommend "Watchful Waiting" for 48 - 72 hours before administration of antibiotics, leaving healthcare providers with few options to help alleviate their patients' pain during this window of time - until now.
ClearPop is a breakthrough form of intra-oral earache treatment that provides fast, medicine-free relief, offering clinicians a convenient and risk-free option for children suffering from ear infections. ClearPop uses a biomechanically designed shape – similar to a lollipop – and special formulation to help the body physically clear the ear from inside the mouth. It works by creating negative pressure in the oral cavity when the child sucks on it, draining Eustachian tubes where earaches often start and relieving painful pressure build-up behind the eardrum.
In a clinical trial, ClearPop lowered ear pain levels in over 88% of kids within twenty minutes to a pain rating equal to zero, or "no hurting," making it an ideal treatment to offer patients in-office. Of these, 78% had sustained relief 48 hours later and avoided antibiotic use altogether.
"e3 Diagnostics' strong relationships with clinicians, and their expertise related to all things for ear health, make them an ideal distribution partner to medical providers," said Gordon Rogers, Try This First chief executive officer. "They are a respected company in the industry and provide service and knowledge excellence. We are excited to have them represent ClearPop to pediatricians and other healthcare providers."
ClearPop is available for online ordering at mye3shop.com. Visit their website to learn more about billing and reimbursement opportunities. Consumers can purchase ClearPop through their physician, at Raley's family of stores, in select pharmacies and drug stores, as well as online at Amazon and Amazon Fresh.
###
About Try This First, Inc. makers of ClearPop
Clearpop is a new clinically tested, intra-oral earache treatment that uses special ingredients and a biomechanically designed shape, similar to a lollipop. ClearPop helps the body clear fluid from the ear through the mouth, without medication. ClearPop was invented by physician Scott Morehouse, M.D., in response to his own children's struggles with acute otitis media (AOM) and his concerns about the over-prescription of antibiotics.
About e3 Diagnostics
e3 Diagnostics is a nationwide team of experienced local experts working in the field of instrumentation for years. Our experience, both local and nationwide, allows us to set the standard for the highest level of expertise in our field. e3 Diagnostics is based on three cornerstones: expertise, excellence and everyday. These three e's are the fundamental basis of our name, e3. With e3 Diagnostics, you get more than just a partner, we are a family of people, dedicated to helping you help your customers to better hearing.
https://www.facebook.com/ClearPop/
https://www.linkedin.com/company/clearpop