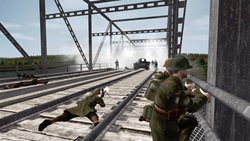 New Management and new team following the guidance of the community to create the best gaming experience possible.
Bedford, TX (PRWEB) May 27, 2016
As World War II Online approaches its 15th anniversary since its original release (June 6th, 2001), Cornered Rat Software has a new team along with new leadership that has taken command of the game's future and direction. They have seen a very exciting year with active development in full swing and a revitalized approach to building the game.
Over the past year, the new team has released several updates that added weapons and other game play improvements. Recently they released a major update to the game (version 1.35 - May 2016) that enhances the game performance, provides better stability, and brought back multi-crewing for vehicles. Many veteran players are hailing this update as, "The best update in a very long time!"
15 years of live game operations is a major milestone in gaming history. To celebrate, all veteran players will have their accounts re-activated with full premium access, and all free players will receive full access for the entire month of June. A series of Special Events, including a June 6th celebratory parade will also be occurring in-game.
World War II Online is a persistent MMO (FPS) where players drive Campaign game play through strategy and combat in Western Europe. Play as Allied or Axis and take command of vehicles or soldiers in the Army, Air Force and Navy in a massive open game world. Choose from over 150 historically accurate vehicles and weapons with integrated military grade ballistics and physics meticulously designed to give you a true-to-life gaming experience.
Website - http://www.battlegroundeurope.net
About the game - http://battlegroundeurope.net/about-the-game
Trailer - https://www.youtube.com/watch?v=locvif2c5Ec&feature=player_embedded
© 2016 Playnet, Inc. All Rights Reserved. Playnet Inc., World War II Online ™, WWII Online ™, Battleground Europe ™ , Cornered Rat Software©, are trademarks of Playnet Incorporated.